How to write an Action Plan that Drives Results | With Examples
It's an impeccable thing to have your goals aligned. However, there's no point in setting high aims when you don't know how to achieve them. That's where an action plan comes to the rescue. Whether it's a personal aim or a business-oriented one, an effective action plan can pave the road toward success. You must be wondering by this time how to write an action plan.
Well, this is what this article is about. We'll thoroughly discuss the elaborative process of writing an action plan, along with a few examples of action plans. Ultimately, you'll be able to figure out your own version of the action plan that drives results without additional effort.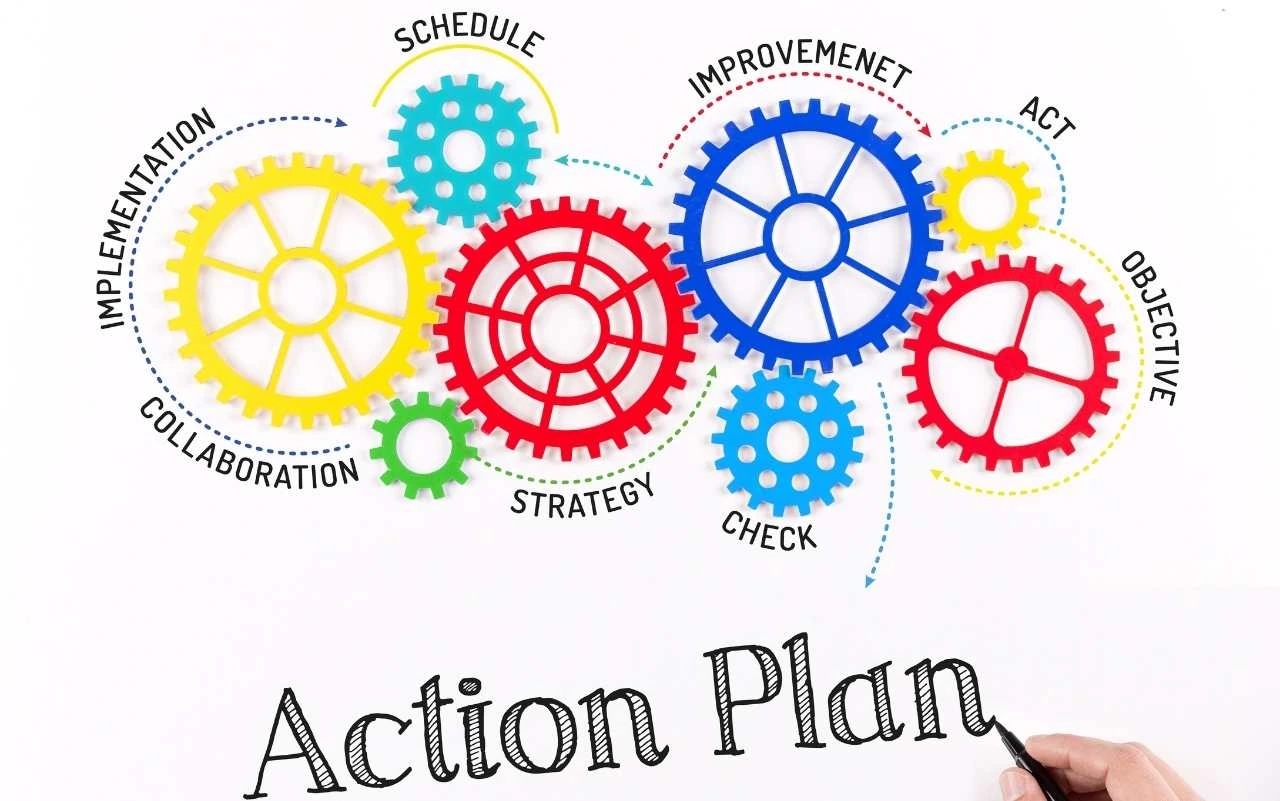 What is an Action Plan?
Before we get into the details of how to write an action plan, it's critical to get an overview of it. An action plan outlines a sequence of tasks that one must complete fulfilling their goals. It comprises three main parts. Firstly, you must know what tasks are needed to be performed and by whom. Secondly, you must allocate a time horizon for completing those tasks. Lastly, you must ensure the availability of the required resources to achieve your strategic goals, i.e., resource allocation.
However, it's not as easy as it seems. It's essential to think out of the box, brainstorm every critical step, and analyze your performance to make your action plan effective. An action plan holds substantial importance for the growth of any business. According to the Bureau of Labor Statistics (BLS), a poor action plan is one of the main reasons behind the failure of new businesses. So, if you want your business to succeed, it's crucial to have clear-cut objectives.
Steps to writing a Productive Action Plan
Now that you know the importance of an action plan and how it can change the business dynamics, it's time to discuss how to write an action plan. However, it's important not to confuse an action plan with an operational plan which is created for the achievement of a company's strategic aims. Without any further due, let's begin.
1. Align your Goals
The first step is to align your goals and objectives, whether it's a personal action plan or a business one. This step might seem easy to you, but it is not, as it is the prime base of your action plan. The most significant mistake people make in this step is setting unrealistic goals. Ultimately, their action plan fails. Your goal should include specific attributes if you want your action plan to work.
You must be wondering what those attributes are. Well, a goal must be challenging, specific, attainable, measurable, positively stated, and time-limited. In short, you must set a great goal through critical thinking while ensuring it has all of these attributes. For example, an attainable goal for a new business can be to reduce its ongoing expenses by 20 percent.
2. Outline your Tasks and Priorities
The second step that adds to the answer to our objective question, i.e., how to write an action plan, is outlining your tasks and defining your priorities. You have to figure out the steps that you need to carry out to achieve your goal. Out of those steps, you have to prioritize the ones that hold greater importance or require more time for completion.
Lastly, you have to assign those tasks to the respective members of your team. For example, to reduce your business expenditure, you'll have to carry out multiple steps like setting a budget, looking out for cheaper substitutes, saving electricity, and reducing paperwork. You might be intrigued to know that 70 percent of the new businesses that survive the threshold of 5 years follow an action plan.
3. Designate a timeline
Next, you have to figure out a designated timeline in which you or your team needs to complete all the action plan tasks. Setting a deadline is essential as it enhances productivity and keeps the team motivated. Otherwise, it's easy to lose track of time while all your efforts will go in vain. According to a study held by the Research Institute of Economy, Trade, and Industry (RIETI), it was concluded that teams become more productive when they are given tight deadlines. So, designating a timeline is crucial for any action plan to work out.
4. Allocate resources and Evaluate
The fourth step is to allocate the resources needed to execute your action plan. Previously, we mentioned an example of an action plan that one needs to reduce their business expenditures. So, one of the required resources would be assistance from a finance expert. Last but not least, you have to evaluate and monitor the progress of your action plan side by side and make modifications if required. That pretty much sums up the answer to the question of how to write an action plan that drives results.
Example of an Action Plan
Let's look into a properly designed example of an action plan for a business. It'll give you a clear perspective and will resolve your confusion, if any.
Complication: Half of the customers are not satisfied with our services.
Goal: Increase customer satisfaction by 40% within 1 year.
The following steps must be carried out to ensure the achievement of the goal within 1 year.
Step 1:
Task: Design a survey to get feedback from customers.
Deadline: 2 weeks.
Supervisor: Marketing Manager.
Step 2:
Task: Train the staff on effective communication skills and better dealing with customers.
Deadline: 3 months.
Supervisor: Sales Manager.
Step 3:
Task: Take instant action on negative feedback.
Deadline: 1 week
Supervisor: Customer Support.
Monitoring and Evaluation:
Evaluate and monitor the progress to ensure the action plan is working. Make respective modifications if something does not work out.
Conclusion
In a nutshell, an action plan is what your business needs if you want to pave a road towards guaranteed success. We hope you've understood clearly how to design an action plan that drives results. Also, you can take assistance from special tools that make it effortless to address business complications and goals like our ProScheduler. Indeed, a simple, reliable, and productive tool with all the necessary features to devise an effective action plan.