TeamBoard ProScheduler for Jira
Jira Project Managemenr. Moving from spreadsheet planning to TeamBoard was incredibly easy to set up & implement & roll-out
10-minute ProScheduler Demo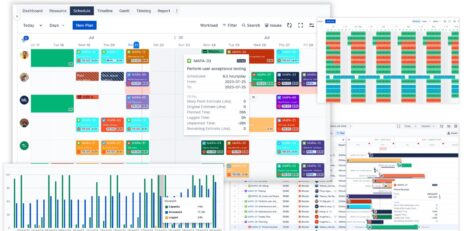 A Bird's Eye View of Project/Program/Portfolio
Always have visibility into the companies resource schedule. TeamBoard Jira project management can plan in hours, days, weeks to months. You will easily see the gaps in your production and be able to be proactive in solving scheduling conflicts and scheduling in new business.
Quick Drag and Drop Interface
Public Holidays
Resolve Conflicts Easy
Zoom Views
Sick & Vacation Days
Simple Drag & Drop Scheduler
Manage team assignments effortlessly with TeamBoard's drag and drop scheduler. Simply drag bookings onto the scheduler, and resize them as needed.
Quick Scheduling: Assign and adjust team schedules with ease.
Flexible Bookings: Resize bookings swiftly to fit project needs.

Create Teams of People
Use the sidebar to organize your resources into teams, departments, roles or whichever type of format suits you best. Viewing a group narrows in on just that group removing all other distractions from your view.
Unlimited Groups
Create Teams
Departments
View All People in Group Together.
Detailed Reports
Gain insights with our interactive and customizable reports. Access statistical data for individuals, projects, and portfolios. Plus, conveniently export these reports in various file formats.
Interactive Reporting: Access data for individuals, projects, and portfolios.
Exportable Reports: Generate reports in multiple formats for convenient sharing and analysis.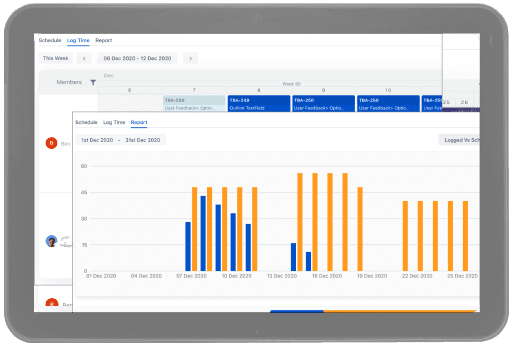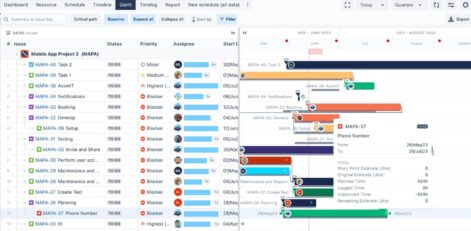 Gantt Chart, Timeline for Jira
Experience enhanced project management in Jira with our visually appealing Gantt charts and timeline features. Improve your planning and tracking of projects, programs, and portfolios.
Gantt Charts: Visualize project timelines and track progress effectively.
Timelines: Manage your programs and portfolios with a clear, chronological view.
Customer Reviews
Beautiful app! fancy scheduler and modern UIUX, I strongly recommend this over other expensive legacy timesheets apps.
The app looks promising I have just installed it today and starting to discover it's features. One thing I couldn't find a way around is cancelling an Approved Vacation or changing it's period range, it will be awesome if such option is available.
I am using this app daily to manage my team and very satisfied with its capabilities. Support guys are very nice and normally response instantly. Keep up a good work the Samurais!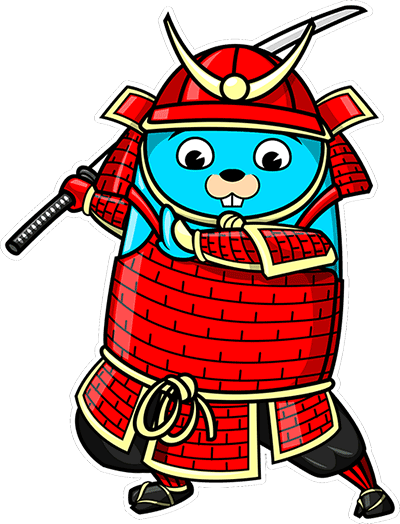 About TeamBoard
TeamBoard is one of DevSamurai's biggest apps.
Based in Japan, DevSamurai, Inc is an IT Service firm that utilizes cutting-edge technology to provide DevOps solutions for its growing customer base.
We pride ourselves on being a customer-centric team that aids clients in leveraging the power of IT to propel their business to the next level. We utilize cloud computing platforms, DevOps tools, and best practices in global industry standards to guarantee your organization will be more efficient.
Our team of world-class experts is just as vital as our technology. The combined years of expertise and wealth of knowledge in the DevSamurai cohort is as impressive as it is effective. Our expert consulting, high-quality service delivery, and rapid technological solutions ensure a seamless Software Development Life Cycle (SDLC).
With DevSamurai handling the repetitive stuff, your company can comfortably focus on exceeding expectations.
TeamBoard ProScheduler
TeamBoard TimePlanner