How to Write an Operational Plan? Guide with Examples
About 20% of small businesses fail in their first year, according to data from the Bureau of Labor Statistics published by Fundera, for lack of knowledge.
The operational plan document highlights and describes the process of business functioning. It's an essential part of a business plan and the easiest way to start your own business. Learning how to write an operational plan is a must.
Mostly, the managers with experience in running their businesses or organization write these operational plans.
Here, you'll learn how to write an operational plan.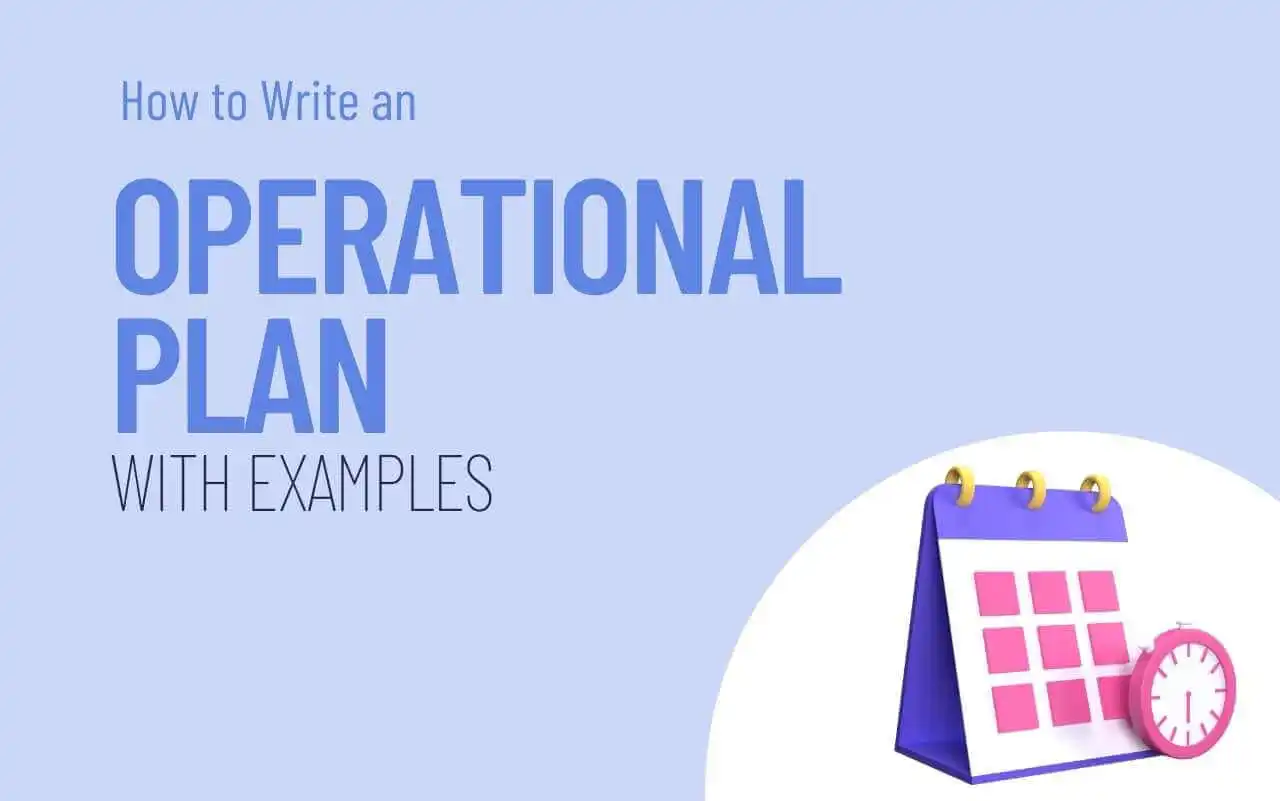 What is the Operational Plan?
Operational plans describe the process of an organization's daily operation.
The Operational Plan doesn't include:
Details about the project methodology
Requirements of engineering methods
The process for developing software code
It's a high-level overview of the steps necessary to achieve the organization's goals. The most important aspect of creating a working plan is ensuring it's clear, concise, and actionable.
The operational plan should include a description of project execution, including:
The roles and responsibilities of each person (and role) involved in your project
The resources needed to complete your project (e.g., money, personnel)
A timeline for when tasks will be completed and milestones reached
The evaluation criteria you'll use and measure
The operational plan is more than just a plan for the next operation. It provides a vision to organizations for their project management and information about how you want it to grow and develop.
Operational Plan Example
A departmental store's operational plan is a perfect example. It must know how many people will be in its store on any given day, when they will arrive and where they are from.
It also must know how many people will be shopping at its store, how long they're likely to shop, and what items they will buy.
The departmental store needs to predict how many customers it will have during the day to schedule employees accordingly.
The employees must also know when the busiest hours are so they can prepare accordingly. The employees should understand what products are selling best so they can stock those items on hand (or order them in advance if necessary).
Types of an Operational Plan
There are four major sections of an operational plan:
Objective Plan: An objective plan lists the achievable goals for each month or quarter so that the organization can track progress throughout. Objectives need to be specific and easily measurable; otherwise, there is no way to determine results and outcomes.
Business Plan: A more detailed plan with more complicated tasks, resources, and costs associated with each lesson. Mostly, bigger businesses use this plan that needs more detail than just a simple operational plan can provide.
Sales Plan: This includes information about how much money you want to make, how many target customers need, what type of products or services you offer, etc. It also includes how much time each customer will take before making a purchase decision (response time).
Management Plan: It's a communication ladder between upper management as well as stakeholders such as investors or other members of the team that have input into decisions regarding the strategic direction of the company
How to write an Operational Plan
The most important part of creating a good operational plan is ensuring it's clear, concise, and actionable. Every step from key steps of operational planning in your process should be described in detail with a time frame for each step. The clearer your plan, the more likely people will be able to follow it and get things done on time.
Another important aspect of creating an operational plan is ensuring that you include all aspects of the business's operations. You need to have all aspects of your company's operations, including sales, marketing, processes, and finance, so everyone can understand what needs to be done at any given time.
Here're key steps of operational planning to follow when you're creating your operational plan:
     1. Define your Goals and Objectives
What do you want to accomplish with your new project? What key performance indicators KPIs will you use to measure success? Your objectives should be measurable and specific and include quantifiable numbers and qualitative measures such as customer satisfaction or employee engagement.
     2. Identify the Resources
Identify the resources needed to achieve those goals and objectives, including time, money, and people. You may need multiple resources like a marketing firm or software developer so consider all of them upfront. Set goals for each help so you know who will own what works at any given time.
     3. Outline the Timeline
Outline the timeline for completing each step of the project, from start to finish; this will help keep everyone on track as deadlines approach and changes are made along the way. Consider how much time per day it will take each person to complete their tasks, so you can make sure there's enough time in the week for everyone working on the project to complete their work, as well as provide feedback for other team members' efforts.
     4. Implementation
It involves putting the plan into action and monitoring its progress. This is a key step of operational planning. This stage consists of deciding on resources, timelines, and measures. These then assist in achieving the results.
     5. Evaluation
Evaluation is an ongoing process where you measure your success against your objectives and determine if adjustments need to be made. You can also evaluate your performance based on past performance indicators or by comparing it with relevant benchmarks.
These key steps of operational planning will surely help you to write an operational plan.
Conclusion
The operational plan is the primary document that defines how an organization will achieve its goals. A business person must know how to write an operational plan for good business activity.
Use Proschedular to assign each team member's activities. It provides a complete image of the team members and their duties, as well as the logged and scheduled time for each issue for reporting.