Project management tools play an indispensable role in ensuring that teams remain synchronized, projects stay on track, and goals are achieved on time. As the sheer number of tasks and projects rises, the need for efficient, intuitive, and powerful scheduling tools has never been greater. Among the plethora of options available, two tools stand out prominently: DevSamurai's Teamboard ProScheduler vs. WBS Gantt Chart. This comparison aims to provide a deep dive into the features, advantages, and unique offerings of both, with a special emphasis on why TeamBoard ProScheduler might just be the superior choice for your needs. Read on to explore a side-by-side assessment that will help guide your decision in selecting the best tool for your organization.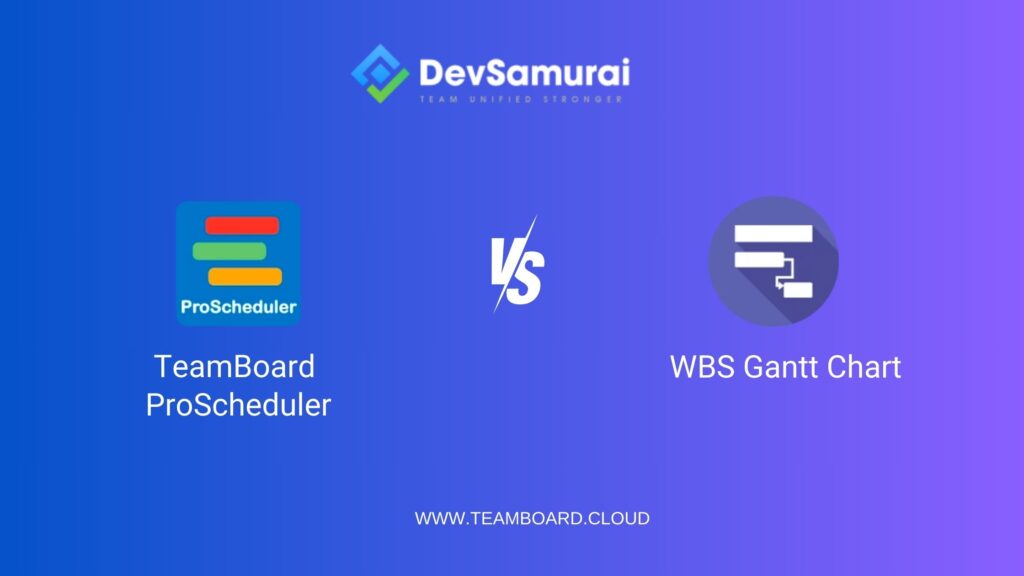 DevSamurai's Teamboard ProScheduler vs. WBS Gantt Chart 
A Brief Overview of Both Tools
TeamBoard ProScheduler stands tall as the premier capacity planning app, meticulously designed for the demands of project, program, and portfolio management. Moreover, with a harmonious blend of state-of-the-art design and functionality, ProScheduler sets a benchmark in offering an unparalleled visualization and management experience. Indeed, it's not just a tool—it's your project's command center.
Key Features of TeamBoard ProScheduler: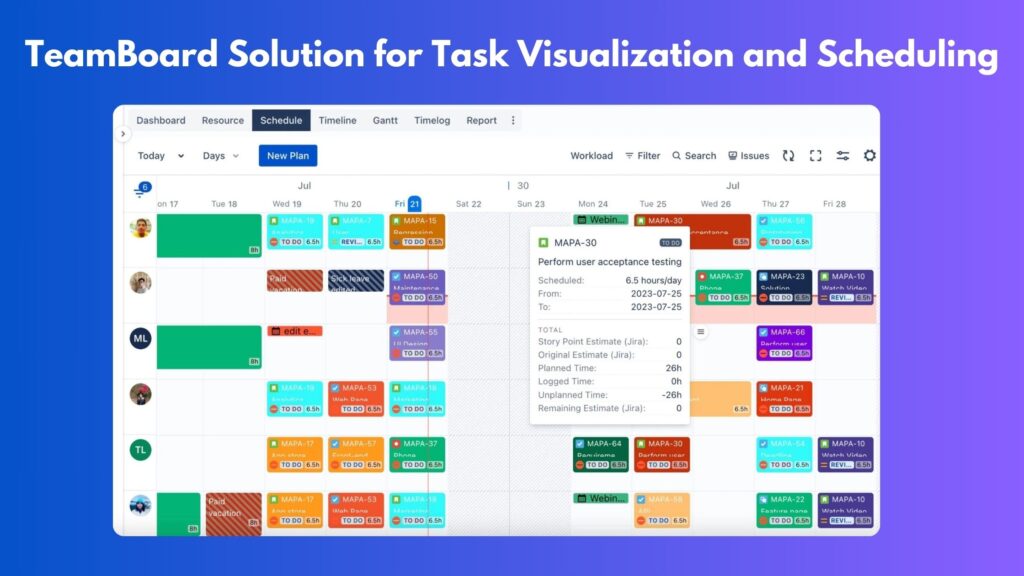 Cutting-Edge Visual Interface:

Navigate through your projects with a sleek, intuitive visual board that captures every detail, no matter how minute.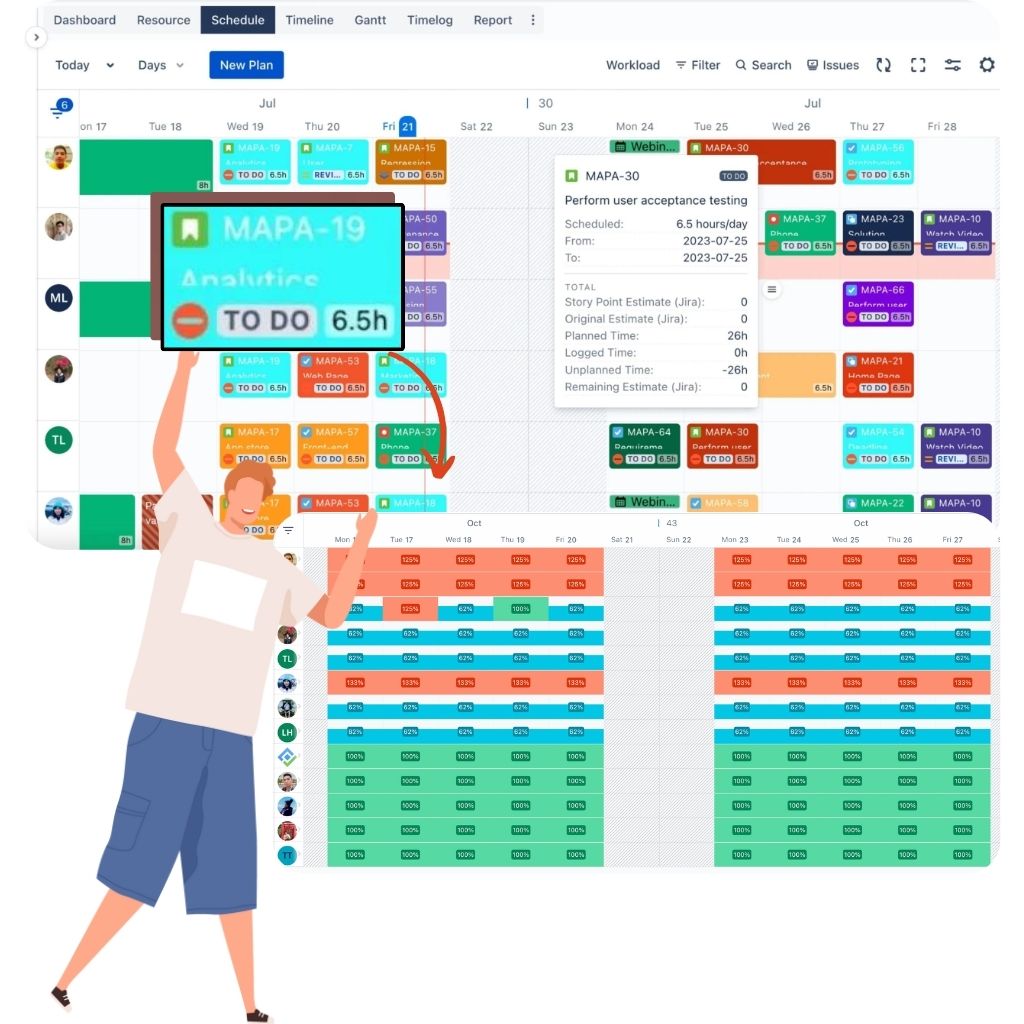 Efficient Task Management:

Drag, drop, and resize cards for effortless task planning. No tedious forms, no complex interfaces—just simplicity at its best.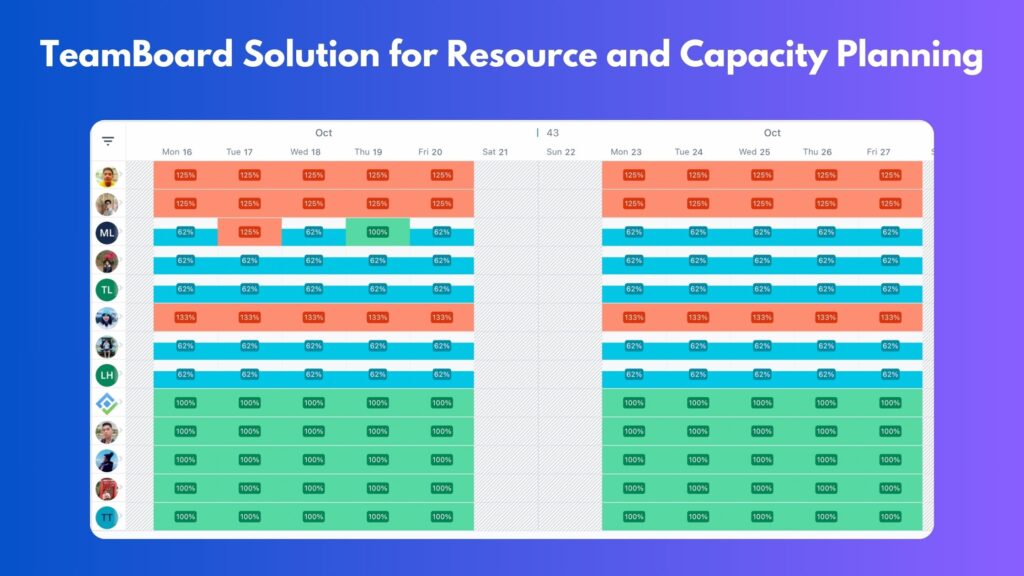 Beyond Standard Gantt:

Experience the next-gen WBS Gantt Chart with advanced features that most platforms only dream of—including milestones, baselines, and critical path views.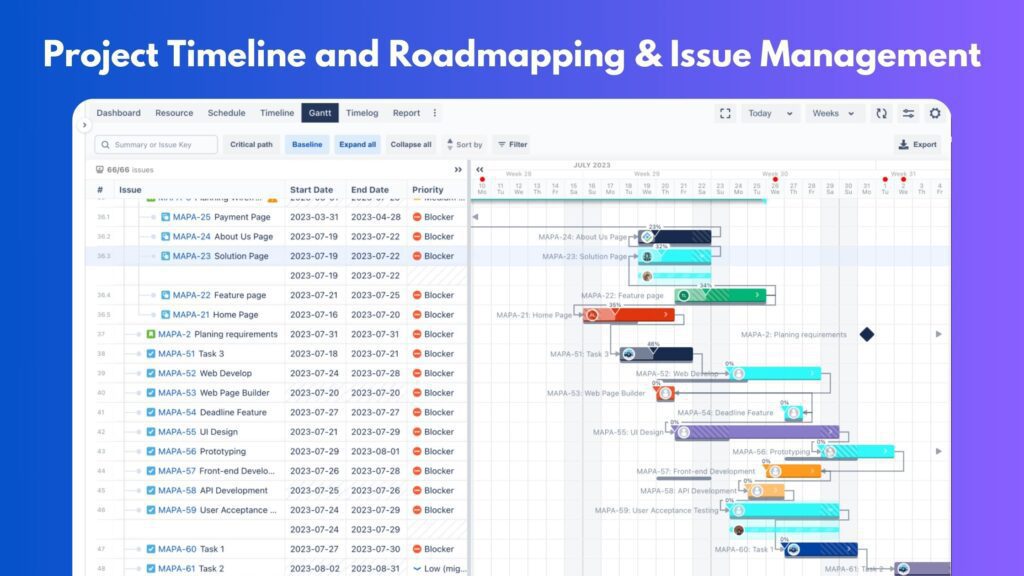 Ditch the Spreadsheets:

With the unique Issues Table, say goodbye to Excel. Manage Jira issues with the efficiency of a spreadsheet but the power of a dedicated tool.

Advanced Reporting:

Delve into comprehensive, interactive time reports tailored for every stakeholder, from team leads to top-tier management.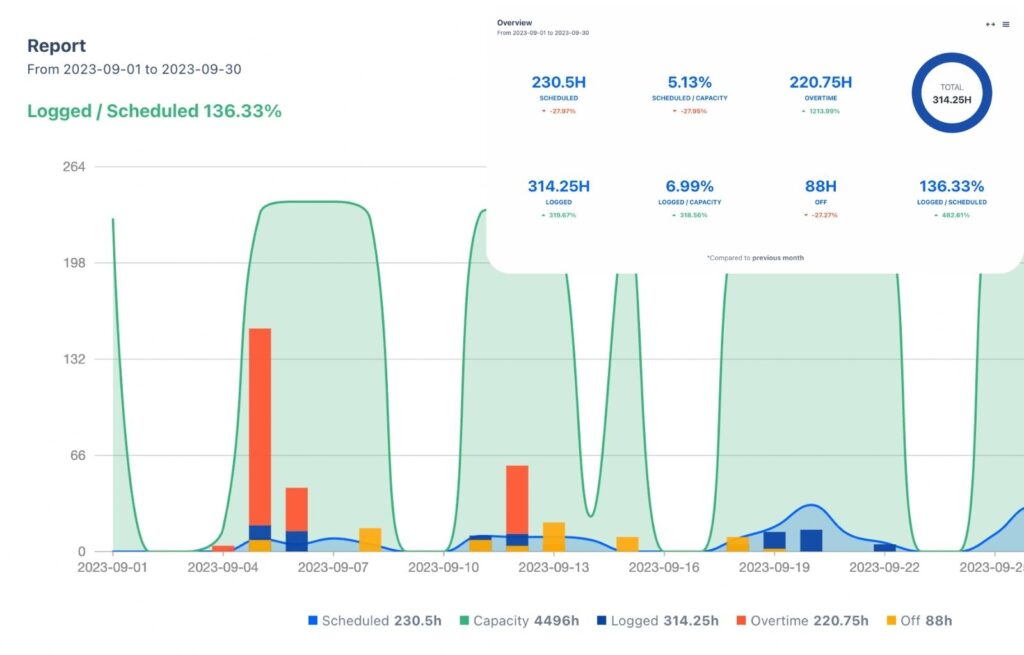 Adaptive and Future-Ready:

ProScheduler isn't just for today's methodologies. Whether you're into Agile, SAFe, or Hybrid, it's primed for the future, ensuring you're always a step ahead.

Risk Management Redefined

: With an upcoming feature dedicated to risk management, ProScheduler is poised to take the guesswork out of foreseeing potential pitfalls.
WBS Gantt Chart by Ricksoft
While WBS Gantt Chart brings Jira into the realm of project management tools, it leans more towards traditional Gantt chart users. It provides a work breakdown structure for task management and comes with a set of features that are common in many project management tools.
Key Features of WBS Gantt Chart:
Gantt Chart Visualization:

Utilizes Jira's Gantt chart features for project layout.

Dependencies Management:

Allows for addition and adjustment of task dependencies.

Standard Project Views:

Offers timelines, roadmaps, and basic Jira issue management, similar to spreadsheet handling.

Basic Oversight Tools:

Features like milestones, baselines, and critical path views are available.

Time Tracking and Reporting:

Standard time tracking features with project and portfolio dashboards.

Flexible Methodology Handling:

Adapts to various methodologies like Agile and SAFe.
By presenting TeamBoard ProScheduler in this light, the platform's advanced capabilities, future-readiness, and superior design elements are highlighted, setting it apart from the WBS Gantt Chart. Adjust as necessary based on other unique selling points or nuances you wish to stress.
What makes TeamBoard Proscheduler better than the WBS Gantt Chart
1. Holistic Resource Management:
ProScheduler offers a more comprehensive resource planning system, thus enabling project managers to view and manage resources across teams, projects, and portfolios. This broader perspective in turn helps in achieving maximum efficiency and resource optimization.
2. Modern and Intuitive Design
ProScheduler boasts a sleek, modern interface tailored for the contemporary user. Moreover, this design prioritizes user experience and as a result, ensures that navigating through tasks, timelines, and resources becomes more efficient and less cumbersome.
3. Unique Issues Table Feature:
One of the standout offerings of ProScheduler is its innovative Issues Table. This feature seamlessly integrates the convenience of spreadsheet management within a robust project management platform, thereby eliminating the need for multiple tools and subsequently simplifying task oversight.
4. Advanced WBS Gantt Capabilities:
While both tools offer Gantt chart features, ProScheduler's WBS Gantt Chart is more advanced. It brings together more features and tools that enhance visualization and planning, ensuring that project managers have a superior planning asset at their fingertips.
5. Future-Oriented Development:
ProScheduler evolves, adding features like Risk Management to meet project management's changing demands with advanced tools.
6. Flexibility in Methodologies:
ProScheduler adapts to Agile, SAFe, or Hybrid workflows, allowing frictionless methodology switches or integration.
7. Inline Time Tracking & Comprehensive Reporting:
Unlike traditional tools, ProScheduler offers inline time tracking, providing real-time insights into project progression. Coupled with its interactive reports, it provides unparalleled analytical capabilities to assess project health and make data-driven decisions.
8. Simplified Task Management:
The user-friendly drag & drop functionality and card resizing in ProScheduler simplify task management. Planning and rescheduling become not only efficient but also intuitive, minimizing the learning curve and maximizing productivity.
9. Unified Project Vision:
ProScheduler's emphasis on presenting a 'big picture' ensures alignment among stakeholders. Whether it's team members or top-tier management, everyone has a clear, unified vision of the project, promoting effective collaboration and timely delivery.
While the WBS Gantt Chart has its strengths, particularly with its deep integration with Jira, TeamBoard ProScheduler, on the other hand, provides a more comprehensive, intuitive, and forward-looking project management solution. Additionally, its unique features and design elements make it a formidable choice for teams aiming for efficiency, adaptability, and future readiness.
Why the WBS Gantt Chart Feature of TeamBoard ProScheduler Excels Over Competitors
Detailed Features of TeamBoard ProScheduler's WBS Gantt Chart:
1. Auto-Scheduling:
This feature automatically adjusts the schedules of dependent tasks following changes to their predecessors. Thus, moving a task ensures dependent tasks shift accordingly, maintaining consistency without manual recalculations.
2. Baseline Tracking:
Baseline refers to your original project plan. With baseline tracking, you can compare the planned schedule with the actual progress, allowing you to immediately spot any deviations and take corrective actions.
3. Critical Path Analysis:
This is a method used to identify the most important tasks in a project, those which, if delayed, would push the project end date out. Highlighting these tasks helps in ensuring they get the necessary attention and resources.
4. Color-Coded Tasks:
This visual enhancement assigns colors to tasks by priority, status, or type, offering a clearer, at-a-glance task management.
5. Dependency Management:
Clearly display and manage task relationships. Whether it's a finish-to-start, start-to-start, finish-to-finish, or start-to-finish relationship, the visual dependency links ensure clarity in task sequencing.
6. Issues Table Integration:
Manage Jira issues in the Gantt chart, merging spreadsheet utility with Gantt visualization for a project overview.
7. Mapping Fields with Jira:
Ensure synchronization between ProScheduler and Jira by mapping fields. Whether it's task status, assignee, or any custom field, the mapped data is seamlessly integrated, ensuring consistency across platforms.
8. Modern Design with Intuitive UX:
The design is not just about aesthetics. ProScheduler's Gantt chart is designed for optimal user experience, ensuring even complex projects are easy to navigate and manage.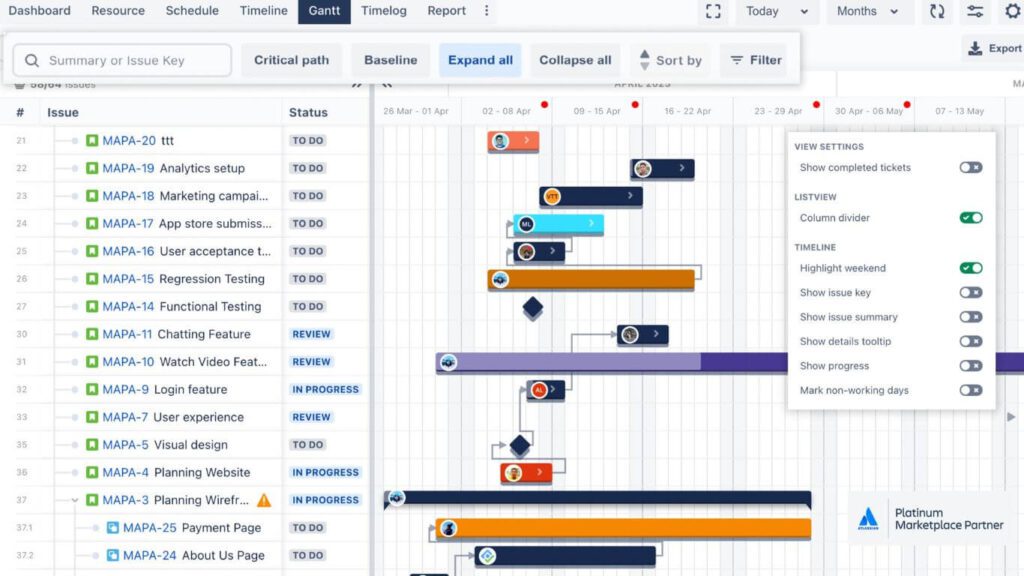 Incorporating these features into your project management process ensures a more fluid, transparent, and efficient workflow. Moreover, TeamBoard ProScheduler's WBS Gantt chart isn't just a visualization tool; it's a comprehensive platform tailored to modern project management needs. Additionally, it seamlessly integrates with tools like Jira to provide a holistic experience.
Customer Support: We're Here for You
At DevSamurai, we understand that software is only as good as the support behind it. Consequently, our commitment to our users goes beyond just providing cutting-edge tools like the TeamBoard ProScheduler. In fact, we're here to ensure that every aspect of your experience is smooth, efficient, and rewarding. This is why here's what sets our customer support apart.
24/7 Availability:

Regardless of your location or time zone, our dedicated support team is available 24/7 to assist you.

Expertise at Your Fingertips:Our support team, after rigorous training on our products, is equipped to assist with even the most technical queries.
Comprehensive Knowledge Base:

We've curated an extensive collection of tutorials, FAQs, guides, and videos. Consequently, this self-help repository empowers you to independently find solutions on-the-go.

Proactive Problem Solving:

We don't just wait for issues to arise. Our support team actively monitors for potential problems, ensuring they're addressed before they even reach you.

Feedback Channels:

We value your feedback! Whether it's suggestions for improvements, new features, or even constructive criticism, we have dedicated channels for you to share your thoughts. This feedback loop helps us evolve and serve you better.

Personalized Assistance:

Every company has unique needs. Our support doesn't believe in one-size-fits-all. We offer personalized guidance tailored to your business's specific requirements and challenges.
At DevSamurai, we take immense pride not just in the advanced capabilities of products like TeamBoard ProScheduler but also in the unwavering dedication of our customer support. Furthermore, our holistic approach, which combines top-notch software with world-class support, underscores our commitment to your success. As you embark on your project management journey, always remember: with DevSamurai, you're never alone. We support you at every step, turning challenges into opportunities. Choose us for a partnership built on expertise and trust.
Unlock Your Project Management Potential Today!
Don't just take our word for it. Instead, experience firsthand the power of TeamBoard ProScheduler combined with our unparalleled customer support. Immerse yourself in a world where project management meets efficiency, innovation, and unwavering support.
🔹 Ready to elevate your project management game?
Start Your Free Trial Now and see the difference for yourself!
DevSamurai's Teamboard ProScheduler vs. WBS Gantt Chart