In the world of project management, every single moment and communication matters to maintain efficiency. From overseeing complex, multi-phase enterprise-level projects to giving a few quick tips to an agile team of three working on a weekend pursuit, having the right tools to get the work done as efficiently and organized as possible will drastically reduce your stress and workflow complications.
One of the more popular platforms for improving your project management operations is Jira. By itself, this is a powerful program that can help outline all the massive amounts of data needed for contractor timing, submitting billing, watching resource allocation, and more. The only problem is that Jira could use more graphical support or visualizations to make this data analysis more accessible and digestible by the human operator.
Luckily, there are a couple of bespoke tools that can improve your experience using Jira for project management. Those are TimePlanner and Timesheet Tracking for Jira.
Why is Jira so Popular?
Jira software was created as an agile project management tool that supports many different development methodologies. This can be anything from scrum to kanban or unique processes you and your team create.
This software has a ton of features that provide you with the capabilities to manage timesheets, costs, resources, and more, all in the theme of proper planning. Project managers that take advantage of Jira see a productivity increase.
The beneficial thing about Jira is that it is adaptive. Meaning you can plug in different integrations and add-ons that allow you to further customize and streamline your planning activities. This enhances Jira's base value and allows you more options for time tracking.
What is TimePlanner?
As Jira grew in use, some developers began to create customizations designed for their specific use cases. One of these integrations is TimePlanner. This is a tailor-made time tracking application developed by the members of Teamboard. At its core, TimePlanner gives you and your team all the same information as Jira, but with different visual cues and interface management options that increase the readability of your data. Instead of having to run a custom report or dig down into the numbers, you can pull up the all-in-one management app and see what employee needs time off, who is falling behind in productivity, and what upcoming project is going to need more resource support.
TimePlanner is an excellent solution to the timesheets for Jira needed for billing and payables. There is no more need to track down employee or team member billable hours because everything is laid out so smoothly inside the application. Your team only has to update from their end, and TimePlanner does the rest. The next time human resources or the billing department is breathing down your neck for this pay period's data, you can pull it all up with a few clicks and send out a clear and detailed report.
That is the essence of TimePlanner, to save you time. Whether you are asked to bust out a report for stakeholders on current asset and resource needs, or to have a visual representation of the workload balance between existing team members, TimePlanner saves you all the backend work that took hours before. It is like having a personal assistant whenever you need someone who is an expert in project management.
Pros of TimePlanner
Individual or team management dashboards
Comprehensive task schedules with profile management and skill set outlines
Custom time tracking and timesheet workflows
Intertwined public holiday calendar, vacation approvals, and working capacity of each team member
Billing rates and cost management features to weight asset allocation
Simple cost reporting and invoicing for clients and stakeholders
What is Timesheet Tracking for Jira?
Timesheet Tracking for Jira was developed by the team at TouchDown. This powerful work log and reporting application specializes in timesheet data presentations. Where other applications try hard to offer all the bells and whistles of a fully customizable enterprise solution, Timesheet Tracking for Jira focuses on simplifying the entire process. You set the various parameters you want to use instead of relying on predetermined settings. 
You can also export your reports and data in a wide variety of file formats, including .csv. This is especially useful for those teams or companies working across different operating systems or native platforms that often require third-party translation software. Again, anything that can save you as a project manager only helps you in the long run. That includes being able to send deliverables that clients, stakeholders, partners, team members, and billing can read. 
As far as visuals, Timesheet Tracking for Jira has an easy-to-use pie chart feature that you can customize. This reinforces the idea of getting a macro view of any project or team need from your dashboard because you can make a chart based on time spent per project or the amount of work being put by individual team members at all a glace. 
Pros of Timesheet Tracking for Jira
Intuitive design with a simplified interface and dashboard
Different filters to customize the parameters of the display
Export in various formats including .csv
Pie chart visualization
Which Do We Suggest? TimePlanner!
The simplified methods and display options in Timesheet Tracking for Jira are undoubtedly worth checking out. Having a quick reference guide of current asset allocation in a pie chart can be a useful tool for some project managers. However, with TimePlanner, you get way more capability for the rest of your needs. 
TimePlanner is highly visual-based as well but also provides cost management for Jira and timesheet reporting with more adaptive options, especially for those hybrid or remote teams needing a centralized location for all their reporting information.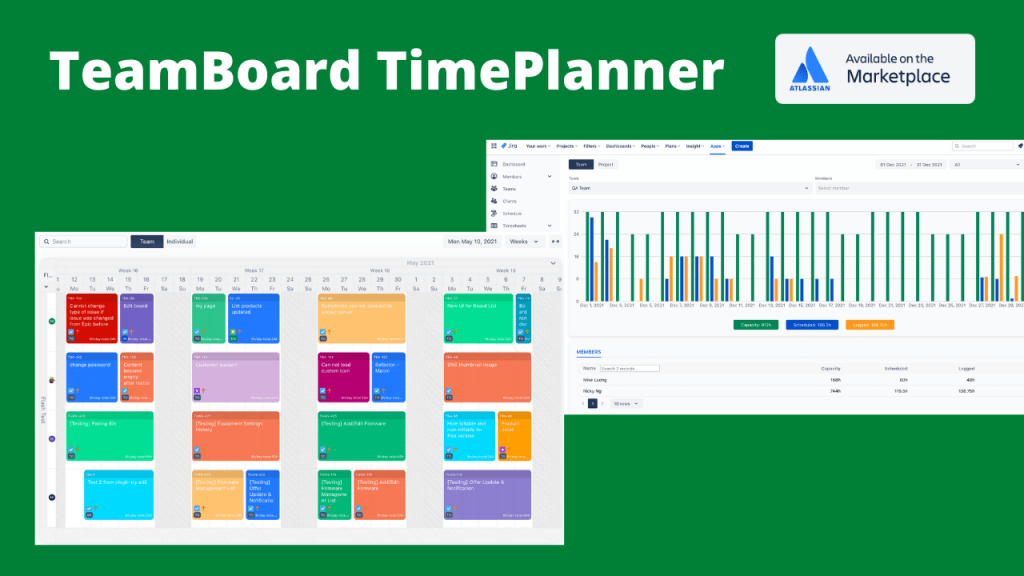 Calendar Integration
It can be incredibly time-consuming to go through all the different time off and holiday requests from team members. With TimePlanner, everyone from the project leads to the individual contractors can see an updated schedule that includes public holidays or specific critical dates relevant to their workloads.
Custom Reporting
Another significant benefit to TimePlanner is its reporting in relation to time, costs, resources, and workload balancing. The rich interactive reporting offers more data-driven insight into the different needs during the planning stage of project development compared to the actual allocation and use of those resources during project completion. This comparison provides excellent benchmarks for future projects of a similar size or scope. 
The simple fact is TimePlanner has more flexibility with the options provided than Timesheet Tracking for Jira can offer. That does not mean it does not have value but is meant for more specialized or focused project managers, whereas TimePlanner is a better all-in-one application solution when working with Jira. 
Cost Management
Manage hour rates, track cost and produce comprehensive cost reports. The team promised to add Bill, invoice exporting features in the future releases
Client Management
A mini CRM which allow you track information of Clients, plan tasks and cost, generate reports, invoice (future release)
Conclusion
In the end, what really matters is your personal preference. We suggest trying TimePlanner out by downloading the free demo version that will give you a decent idea of the many features the program offers. Once you have given that demo a test drive, upgrade to the premium version for the full capabilities of the application. 
The great thing about using a Teamboard product is they are constantly upgrading and providing new features to their software. When you sign up for TimePlanner, you will be alerted to any new integrations or custom features that could drastically improve your project management systems.