TeamBoard continues to evolve, and we're thrilled to announce the release of version 4.1.0! This update brings crucial enhancements to resource planning on Monday.com, making it easier and more efficient to manage your team's workload. Let's dive into what's new and improved in TeamBoard v4.1.0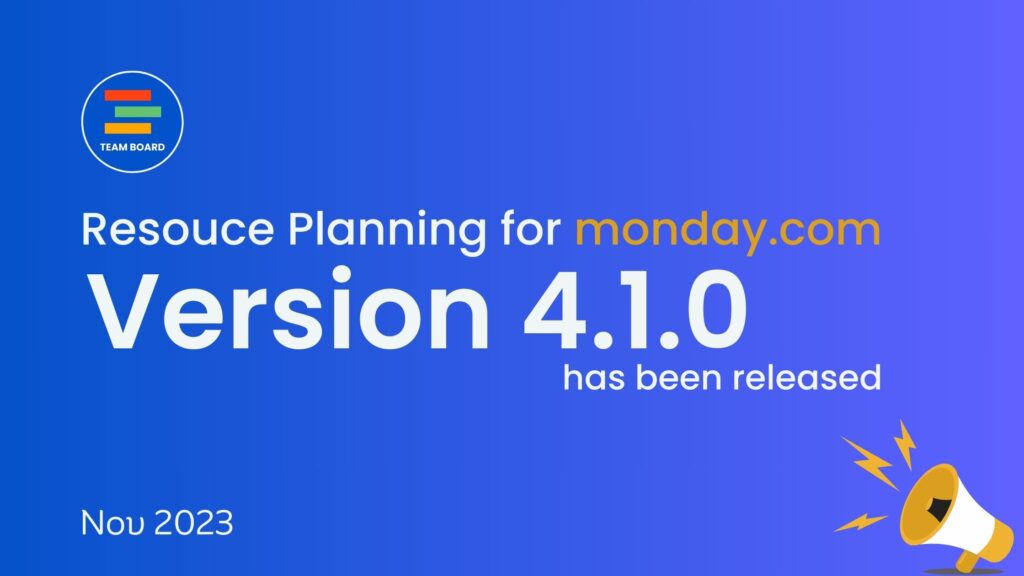 New Feature – Work Capacity Scheme in Version 4.1.0
In our continuous effort to enhance team productivity and efficiency, we're excited to introduce the 'Work Capacity Scheme' in TeamBoard v4.1.0. This innovative feature revolutionizes how you manage your team's workload on Monday.com, ensuring optimal task allocation tailored to each member's unique capacity.
What is the Work Capacity Scheme?
The Work Capacity Scheme is a dynamic tool that allows team leaders and managers to customize task assignments based on individual team members' capabilities and availability. It takes into account various factors such as skill level, current workload, and personal strengths to ensure a balanced distribution of tasks. This means no more overloading some while underutilizing others – everyone gets tasks that align with their capacity.
Improvements in TeamBoard v4.1.0
With the latest release of TeamBoard v4.1.0, we've enthusiastically introduced several key improvements, all strategically aimed at streamlining your user experience and significantly enhancing resource planning's intuitiveness and efficiency on Monday.com. Furthermore, these vital enhancements are thoughtfully based on valuable user feedback and our unwavering commitment to continuous improvement.
Orderly Assignee Rows: Keep track of tasks with ease as assignee rows remain organized during each app load.
Team-Based Filtering: Tailor your view by filtering tasks based on teams, making it easier to monitor group-specific projects.
Enhanced Loading Speed: With data caching, experience a noticeable improvement in the app's loading speed.
Your Feedback Matters
We're here to support you every step of the way. If you encounter any issues, our Help Center is just a click away. And if you love using TeamBoard, we'd be thrilled to hear your thoughts in a review. Your feedback helps us continue improving and shaping TeamBoard to meet your needs