Are you using TeamBoard ProScheduler for Jira? The latest Version 1.4.58-AC is here, packed with new features, improvements, and critical bug fixes to optimize your project management experience. Let's explore what this new version offers!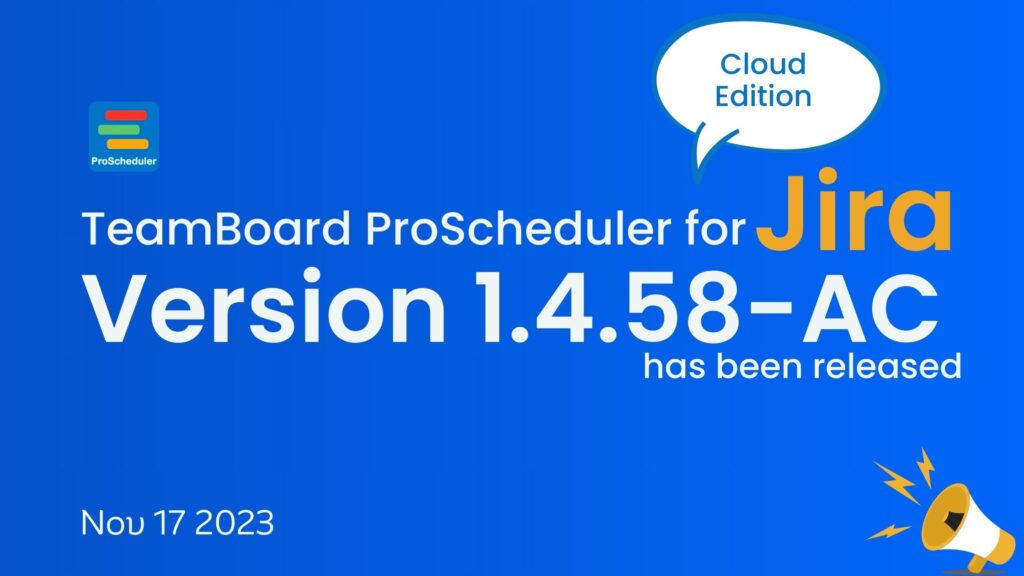 New Features in Version 1.4.58-AC
Enhanced Filtering on Schedule Tab
This new version introduces a basic filter functionality on the Schedule tab. Now users can easily sort and view tasks based on specific statuses, issue types, and priorities. This feature simplifies task management and allows for more efficient project tracking.

Overdue Task Highlighting
Keeping track of overdue tasks is now more straightforward. Version 1.4.58-AC adds an option to highlight overdue tasks in the Timeline, Schedule, and Gantt chart views. This feature helps project managers and team members to quickly identify delayed tasks, allowing for prompt action to get things back on track.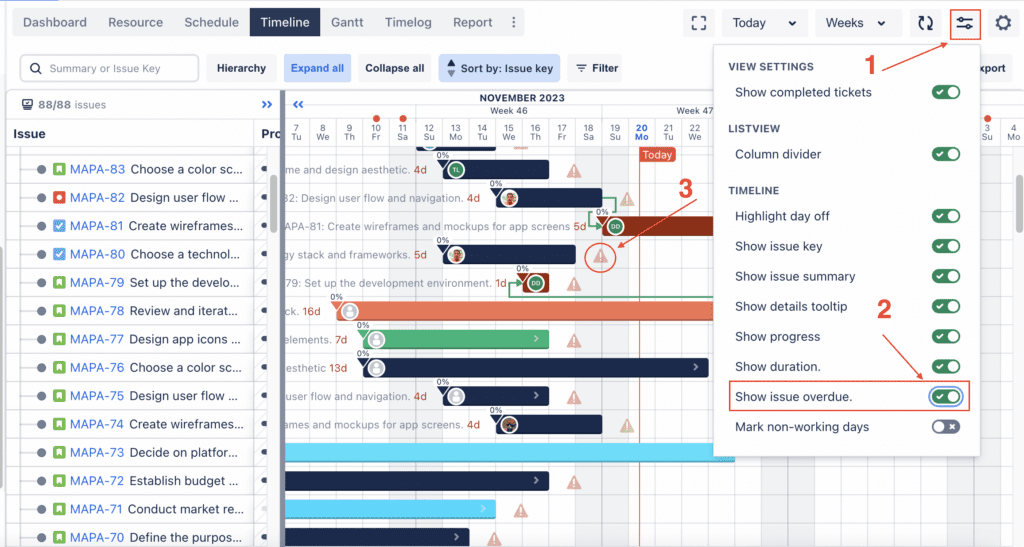 Improvements for Enhanced Usability
Timelog and Schedule Tab Sync: 
The order of issue cards is now synchronized between the Timelog and Schedule tabs. This improvement ensures that users see a consistent ordering of tasks across different views, reducing confusion and enhancing the ease of tracking project progress.
Consistent Member Listing: 
The order of team members is now synchronized between the Schedule and Resource tabs. This change simplifies team management, allowing project managers to quickly reference and assign tasks without needing to adjust to different member orders in separate tabs.
Improved Duration Visibility: 
We have refined the display of task durations on the Gantt chart. This enhancement allows users to get a clearer and more accurate visual representation of each task's expected duration, aiding in better project planning and time management.
Prioritized Event Visibility: 
We now display events scheduled earlier in the day at the top of the day's schedule. This adjustment makes it easier for users to view and prioritize tasks requiring immediate attention, ensuring that important tasks are not overlooked.
Bug Fixes to Streamline Your Workflow
Resolved Action Block on Resizing: Fixed an issue where users couldn't perform actions after resizing a non-permission task.
Improved Parent-Child Issue Placement on Gantt: We have now correctly placed child issues under parent issues on the Gantt chart.
Fixed Project Filter in Issue Box: The project filter in the issue box is now functioning correctly.
Chronological Event Order: Events now appear in the correct chronological order.
Correct Week Display on Schedule Tab: The Schedule tab now shows the correct number of weeks.
Restricted Team Editing for Normal Users: Normal users can no longer edit, delete, or add members to any team.
Fixed Unplanned Filter: The unplanned filter is now operational.
Non-Working Days in View Settings: The system now correctly reflects marking non-working days, including holidays, in the View settings.
Task Planning Limitation: It's no longer possible to plan tasks for more than 24 hours in a day.
Default Working Capacities Adjustment: We resolved the issue where the system set two default working capacities.
Improved Project Loading on General Page: All projects now load correctly on the general page.
Accurate Task Card Scheduled Hours: Task cards now display the correct scheduled hours post-time logging.
Corrected Tooltip for Weekend Planning: The tooltip now shows the right planned hours when scheduling tasks on weekends.
Conclusion
Version 1.4.58-AC of TeamBoard ProScheduler for Jira (Cloud Edition) aims to streamline your project management process, making it more efficient and user-friendly. We appreciate your feedback and commit to continuously improving your experience. Stay tuned for more updates!