In the digital security era, TeamBoard by DevSamurai sets a benchmark with SOC 2 Type II Compliance, showing our commitment to top-tier data protection and privacy.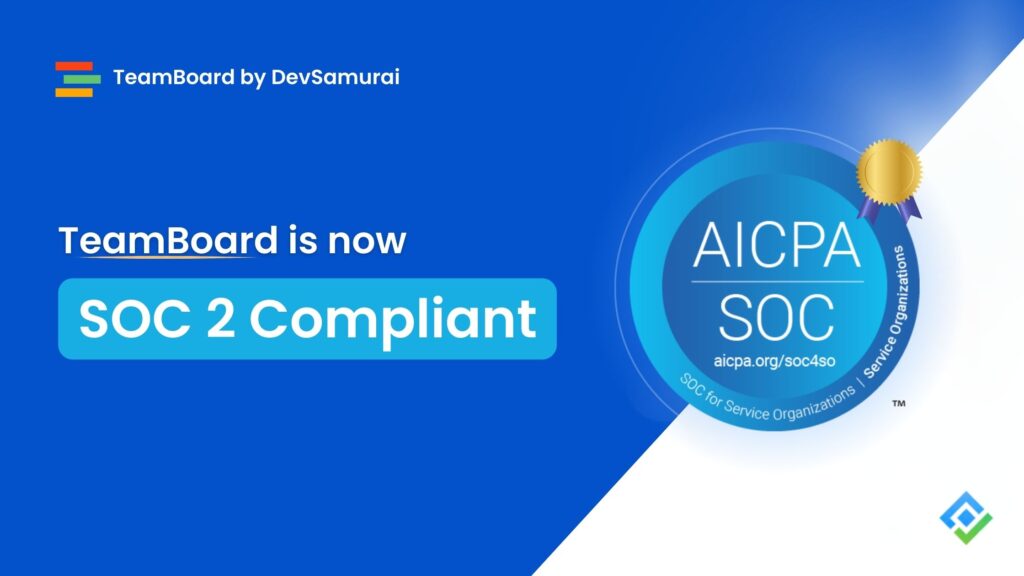 Understanding SOC 2 Compliance
SOC 2 reports are designed to ensure that service providers securely manage data to protect the interests of the organization and the privacy of its clients. The key difference between SOC 2 Type I and Type II is the time frame of the audit. Type I assesses the suitability of design controls at a specific point in time, whereas Type II evaluates the operational effectiveness of these controls over a period, typically a minimum of six months. Learn more about the differences.
TeamBoard's Journey to Compliance
For TeamBoard, achieving SOC 2 compliance was a strategic move to build trust with our clients and stakeholders, showcasing our commitment to high standards of security and data management.
The path to SOC 2 Type II Compliance for TeamBoard entailed a meticulous process, initially overseen by a dedicated team within DevSamurai. Subsequently, this journey was characterized by strategic planning, rigorous testing, and the continuous enhancement of our security measures. Moreover, our partnership with Johanson Group LLP was crucial in navigating the audit process; their expertise and personalized service guaranteed a comprehensive and efficient compliance journey.
Future Outlook: Maintaining and Advancing Security Standards
For TeamBoard, achieving SOC 2 Type II Compliance is just the beginning. We are committed to maintaining these high standards of security and continuously improving our processes. This includes regular security assessments, continuous monitoring, and staff training to stay abreast of the latest developments in data security.
The Role of Johanson Group LLP
In achieving compliance, Johanson Group LLP were not just auditors, but partners sharing our vision of uncompromised data security. Their expertise in compliance frameworks, combined with their commitment to personalized service, played a pivotal role in this achievement. Their approach aligns with DevSamurai's ethos, where quality, integrity, and professionalism are central to our operations.
TeamBoard's SOC 2 Type II Compliance exemplifies DevSamurai's leadership in delivering secure and reliable products to our clients.
Last Words
SOC 2 Compliance is a significant milestone for DevSamurai and a crucial aspect of our promise to our clients. It reinforces our dedication to security and trust, principles that are deeply embedded in the fabric of TeamBoard. We recognize their vital role in your business success and commit to upholding them in all our work.
Discover the secure, robust solutions that TeamBoard and DevSamurai offer. Visit our website or contact us to discover how our SOC 2 Compliance enhances the services we offer. Join us in this celebration of security, trust, and commitment to excellence.