Jira Gantt Charts provide a visual representation of project tasks, dependencies, and milestones over a timeline. They offer a view of the project's progress, enabling teams to identify critical paths, allocate resources efficiently, and anticipate potential bottlenecks. By presenting project data in an intuitive and easy-to-understand format, Gantt charts enhance communication, collaboration, and decision-making within teams.
In the realm of project management software, Jira has gained immense popularity among teams worldwide. Jira's versatility and integration capabilities make it a powerful tool for managing projects across different methodologies, such as Agile, Scrum, or Kanban.
However, while Jira provides robust project management features, it does not natively include a Gantt chart visualization. This limitation can be overcome by integrating third-party Gantt chart plugins or applications with Jira, allowing teams to enjoy the benefits of project visualization and planning using Gantt charts within the Jira ecosystem.
In the upcoming sections of this blog, we will explore the best Gantt chart integrations available for Jira in 2023.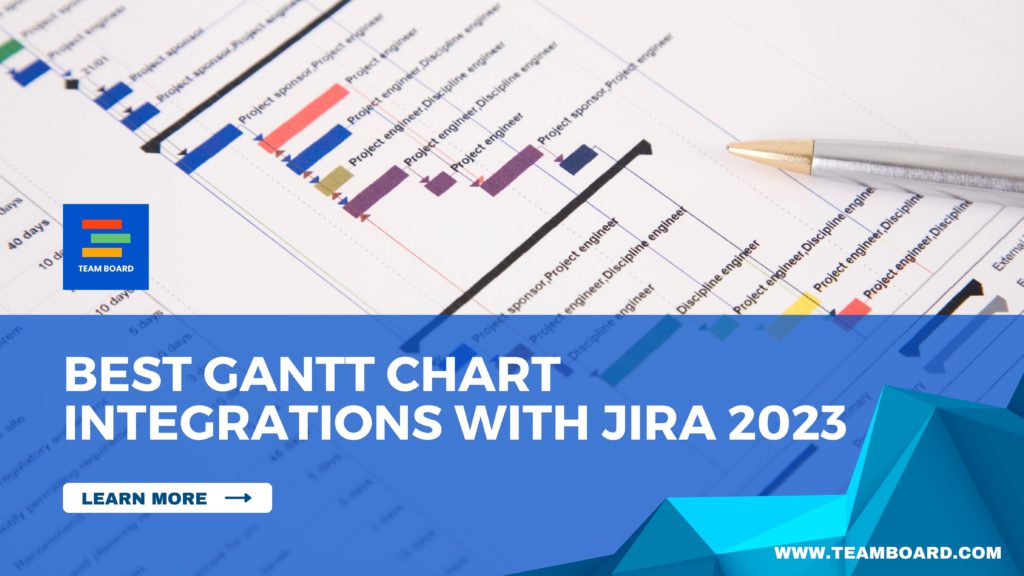 ProScheduler is a powerful plugin that offers resource planning and project scheduling capabilities within Jira. With ProScheduler, teams can visualize tasks in projects and programs, gaining a big-picture view of the project schedule, workload, and resource utilization. 

Features
Gantt Chart – Project Portfolio Management:
Gantt Chart Visualization: Display project timelines and dependencies using a Gantt chart interface.

WBS Gantt Chart: Utilize the Work Breakdown Structure (WBS) in the Gantt chart for detailed project planning and management.

Timeline and Roadmap Views: Gain a visual overview of project timelines and roadmaps for effective project portfolio management.

Issues Table: Manage Jira issues within a spreadsheet-like interface, allowing for easy organization and tracking.

Milestones, Baseline, and Critical Path: Set milestones, establish baselines, and identify critical paths within the Gantt chart.

Auto Scheduling: Enable automatic scheduling of tasks based on dependencies and resource availability.
ProScheduler: 
Resource Planning: Visualize tasks in projects and programs, providing a big picture view of project schedules, workload, and resource utilization.

Drag-and-Drop Planning: Easily plan tasks by dragging and dropping cards within the scheduling interface.

Task Scheduling and Assignment: Schedule tasks and assign them to multiple assignees.

Time Tracking: Track and manage project hours for accurate time reporting and monitoring.
ProScheduler and the Gantt Chart functionality offer a range of features, seamless Jira integration, customization options, and robust reporting capabilities, empowering teams to effectively plan, schedule, and manage their projects, resources, and time within the Jira ecosystem.

Product Go offers a Gantt-like timeline structure for planning tasks within Jira. This feature allows teams to create and schedule tasks, set dependencies, and allocate resources efficiently. The interactive timeline view provides a visual representation of task durations, dependencies, and resource utilization, enabling teams to optimize task planning and scheduling.
Product Go is an app that focuses on enhancing agile project management within the Jira ecosystem. It offers a range of features geared toward user story mapping, requirements and backlog refinement, product management, project management, portfolio management, and customer journey visualization.

The app incorporates a Gantt chart structure, enabling teams to create and manage project schedules, dependencies, and task relationships. This feature offers a visual representation of project timelines and allows teams to efficiently plan and allocate resources, optimize task sequencing, and identify critical paths.
RouteMap is an app designed to enhance project management and portfolio planning within the Jira ecosystem. It offers a range of features geared towards portfolio roadmaps, product discovery, backlog prioritization, project management, Gantt chart structure, releases, and milestones.

BigPicture offers advanced Gantt chart capabilities, including task dependencies, critical path analysis, drag-and-drop scheduling, and progress tracking. It also provides resource management features, such as resource allocation and workload balancing.
BigPicture is an advanced project and product portfolio management tool that takes your project and product management to the next level. It provides comprehensive support for various methodologies, including Agile (including SAFe® and LeSS), Classic, and Hybrid methods. Let's explore the key features and benefits of BigPicture

Structure.Gantt focuses on providing Gantt chart functionality within Jira. It allows teams to create hierarchical structures, set task dependencies, and track progress. The plugin also supports resource allocation and scheduling features.
Structure.Gantt is a powerful extension of Jira that enhances project planning and visualization capabilities. It offers a flexible roadmap and Gantt chart functionality, enabling teams to streamline their project management processes. 

BigGantt offers an intuitive Gantt chart interface within Jira. It allows teams to create and manage tasks, set dependencies, and track progress. The plugin provides drag-and-drop scheduling, milestone tracking, and resource management capabilities.
BigGantt is a powerful plugin that enhances project management within Jira by providing visual Gantt charts. It offers features that allow teams to visualize, plan, and manage Jira issues effectively.
Conclusion
Managing projects and resources efficiently is crucial for successful project execution. Gantt chart integrations with Jira offer powerful features to enhance project planning, visualization, resource allocation, and progress tracking. These integrations enable teams to visualize project timelines, allocate resources effectively, track task dependencies, and make informed decisions for project success.
TeamBoard's ProScheduler is a notable Gantt chart integration that provides comprehensive resource planning capabilities. With features like visualizing tasks, drag-and-drop planning, assigning tasks to multiple team members, and time tracking, ProScheduler empowers teams to optimize their project scheduling and resource management processes. The interactive Gantt chart interface and advanced scheduling features make ProScheduler a valuable tool for efficient project planning and execution.
To take advantage of TeamBoard's ProScheduler and experience its benefits firsthand, we encourage you to try it out for your project management needs. Visit TeamBoard's website or download ProScheduler from the Atlassian Marketplace. Streamline your project planning, optimize resource allocation, and drive project success with TeamBoard's ProScheduler.
Don't miss out on the opportunity to enhance your project management capabilities with ProScheduler. Get started today and unlock the full potential of efficient project planning and resource management!