Comprehensive Guide to Communication Management Plan with Examples
Communication management plans are all too easy to forget or take for granted. And while they may not sound important, they should be a vital part of your business plan. The ability to communicate is the most important factor in any business venture.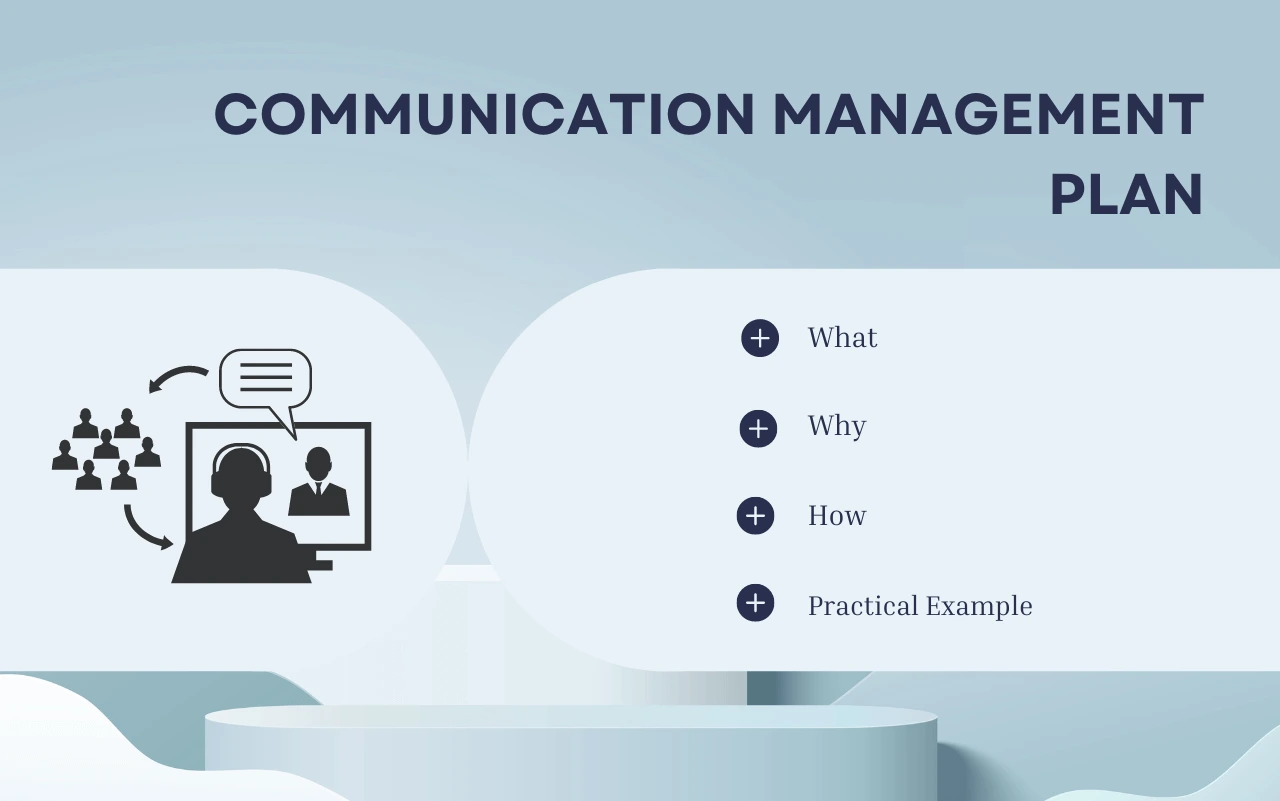 How do you create a communication plan for your project? Or have you heard people talking about it but never really understood what it was? You can use the definition of SMART to create an awesome communication plan for your next project. It doesn't matter if you've previously created a communication plan for a team. Let's delve into it;
What is a Communication Management Plan?
Organizations use communication management plans to describe how they communicate with their stakeholders. The organization's communication strategy will be based on the needs of its stakeholders, which may include employees, customers, investors, suppliers, and the media.
Organizations of all sizes can use a communication management plan in any industry. It should include the following:
A general description of your organization's goals and objectives.
The key messages that are required to be communicated to each stakeholder group.
The target audience for each message and how you'll reach them (for example, through advertising or direct mail).
How often you'll update stakeholders on progress toward reaching the goals and objectives outlined in the goal-setting section of your plan
The resources required to carry out the communication activities (such as staff time and money)
Communication Management Plan: Why You Need One?
Communication is essential to any project, as it helps the businesses to keep everyone on the same page and ensures that no one gets left behind or confused.
71% of employees who reported being more productive feel connected to their coworkers, according to the Connected Culture report. Therefore, employees who interact with one another frequently are more productive.
A communication plan is like a map where every destination has an address and directions for getting there. It tells you where you are standing now and where you need to go next. A good communication plan will also tell you how long each step will take, so you can plan for any delays or unexpected problems that might arise along the way.
A good communication plan will help you to:
Take project specifications from stakeholders.
Keep stakeholders informed about the scope and status of their tasks and deliverables.
Share information about changes or issues that might affect their work.
Provide updates on progress, including any risks and issues that might affect delivery dates.
What to Include in Communication Plans?
Communication plans are important because they help you organize your team's communication efforts.
When creating a communication plan, you should include the following:
Team members
Who needs to be included in your communication efforts? Do all employees need to know about a change in policy or a new initiative? Or just those who will be affected by it? Make sure your communications team includes everyone who needs to know about your changes.
Stakeholders
Who else does this affect? Ensure key stakeholders — investors, customers, vendors, and partners — are included in your communications strategy. They'll help spread the word about what's happening with your business.
Communication methods, types, and styles
What are the best ways to communicate with various groups of people? For example, if you're communicating with employees, do they prefer email or text messages? Is there someone on staff who would be great at blogging about this topic? What type of tone should we use when writing marketing materials for customers?
Meeting Schedule
The first thing you should include is a schedule of meetings that includes dates, times, and locations. This will ensure that everyone is clear about when meetings will take place so that they can prepare for them accordingly.
Communication Goals
Next, you should set goals for your organization's communication system. For example, you should increase the number of people who attend meetings or decrease the number of meeting cancellations. Whatever goal you set, everyone must know it so they can work toward achieving it together as an organization.
Communication Management Plan Example
So, how do you make sure that everyone is communicating effectively? An example of a communication management plan for developing a project management communication plan is as follows:
Choose a Format
The first step is choosing the format for your communication plan. Several options are available, including an email template, a document or presentation slide deck, or even a checklist of steps people need to follow. The format you choose is dependent on how much information you want to share, how often you need to update it, and what type of information needs to be included.
For example, Email is great for communicating quickly with other team members or outside partners regularly (for example, once a day), but it can get confusing if you're trying to explain something more complicated or don't know when someone will be available to respond.
Set Goals
Before you create your communication plan, decide what its goals are — what do you want it to accomplish? Is it meant to save time by ensuring everyone knows who they should be talking with? Or are there specific outcomes that each stakeholder must achieve? These goals will help guide your efforts when it comes time to write up the actual content of your plan.
For example, if you're managing a project where budget is an issue, your goal might be "Increase budget understanding." This would mean you'd need to communicate with team members about how much money they have available and what they can expect from future funding sources.
Identify Stakeholders
Who are the people involved in the project? Who needs to know about it? The answer might be different than who needs to know about it. For example, a small project might only require you to inform one or two departments, but if you have an external client involved in a big project, they will need updates too.
Identify Communication Methods
You should also consider how you want to communicate with your stakeholders. This will determine how many tools are needed and how often they should be updated with new information. For example, if you want someone who works most of the time remotely, then Email may not be appropriate because they will only sometimes have access to their inboxes when needed.
Final Words
In conclusion, communication management plans help businesses communicate with their employees, contractors, and clients in a way that allows problems to be reported and addressed effectively.
As a project manager, entrepreneur, or employee, TimePlanner will help you to track how your time is used. After all, if you don't plan your time, someone else will do it for you. It will make your job easier and more productive.
Give it a shot for free!