The digital workspace is continually evolving, and with it, the tools we rely on to manage our projects efficiently. We're thrilled to announce the release of Version 2.7.0 of Time Tracking, Timesheets, Resource Planning & Cost for Jira, now available in the Atlassian Marketplace. This update brings a host of new features and improvements, making it an essential upgrade for teams seeking streamlined project management solutions.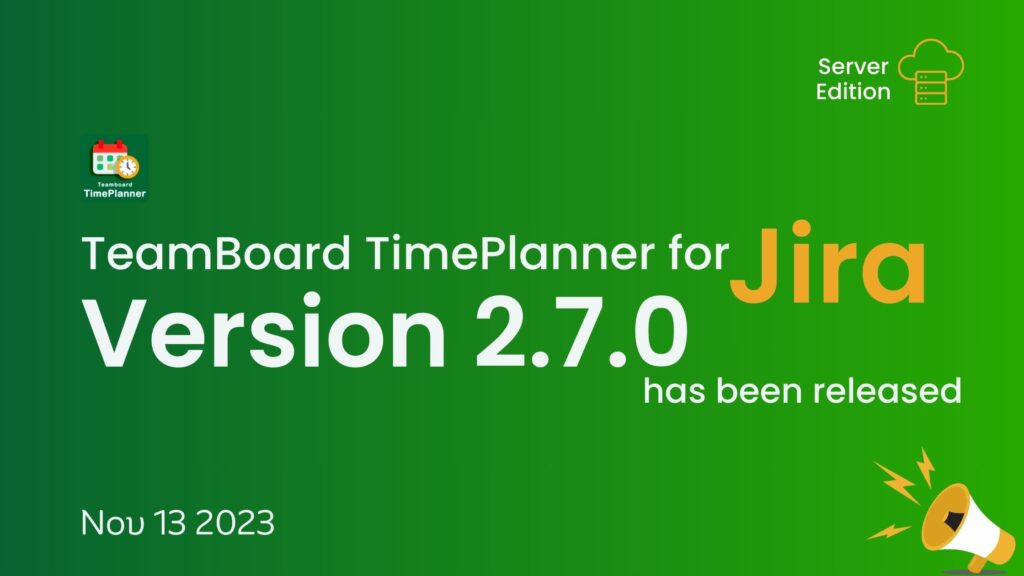 What's New in Version 2.7.0:
Introducing the "Team Board" Feature:
Team Management Made Simple: Visualize and manage your team's schedule, workload, and performance in one intuitive interface.
Cost Tracking and Analysis: Gain a comprehensive view of your project's financial health with advanced cost tracking and analysis features.
Powerful Reporting Tools: Generate detailed, customizable reports that provide deep insights into your team's productivity and project status.
Advanced Schedule Board:
Dynamic Scheduling Capabilities: Plan, assign, and track tasks with greater precision and flexibility.
Real-time Updates: Keep your team in sync with real-time updates to schedules and tasks.
Customizable Views: Tailor the board to fit your team's unique workflow and preferences.
Improvements:
User-Friendly Interface: The redesigned Timer and Help Box UI offer a more engaging and less cluttered user experience.
Enhanced Export Features: Now, user names are included in exported reports, providing clearer accountability and tracking.
Optimized Performance: Significant enhancements to the loading speed of the Dashboard and TimeLog sections mean less waiting and more doing.
Bug Fixes:
Timesheet Accuracy: Fixed an issue causing submitted timesheets to display incorrect hours.
Decimal Point Display: Resolved a display issue with decimal points in reports.
Logged Hours Reflection: Ensured accurate reflection of logged hours in reports.
Permission Dialog Error: Fixed an unexpected error that occurred during time logging.
Schedule Board Glitches: Addressed the problem where dragging cards on the schedule board caused them to disappear.
Holiday Schedule Updates: Edited holidays are now properly reflected in the Schedule tab.
Client Cost Display: Corrected the display of client cost information.
Leave Settings Configuration: Resolved issues in setting up "other allocation" in Leave Settings.
Hour Calculation: Fixed miscalculations in logged hours.
Minor UI Bugs: Addressed various small UI issues for a smoother user experience.
Conclusion:
Version 2.7.0 of Time Tracking, Timesheets, Resource Planning & Cost for Jira brings a transformative experience to project management. This release not only refines existing functionalities but introduces groundbreaking features like the "Team Board." It's a leap towards more efficient, intuitive, and comprehensive project management within the Jira platform. Upgrade to Version 2.7.0 now and experience the future of project management at your fingertips.
Don't miss out on these exciting new features! Head over to the Atlassian Marketplace, download Version 2.7.0, and take your project management to the next level!