Do you ever feel like there aren't enough hours in the day?
Basically, it's a common sentiment in the bustling world of project management. With tasks piling up, deadlines looming, and teams to coordinate, keeping everything streamlined can feel like an uphill battle. However, thankfully, there's a secret weapon many professionals rely on: Jira Timesheet.
Imagine having a bird's-eye view of your project's timeline, understanding where every hour goes, and predicting potential roadblocks before they become issues. That's the power of Jira Timesheet.
In this guide, we'll dive deep into how this feature can be your ally in the quest for project efficiency. Moreover, ready to unlock a new dimension of productivity? Let's jump in!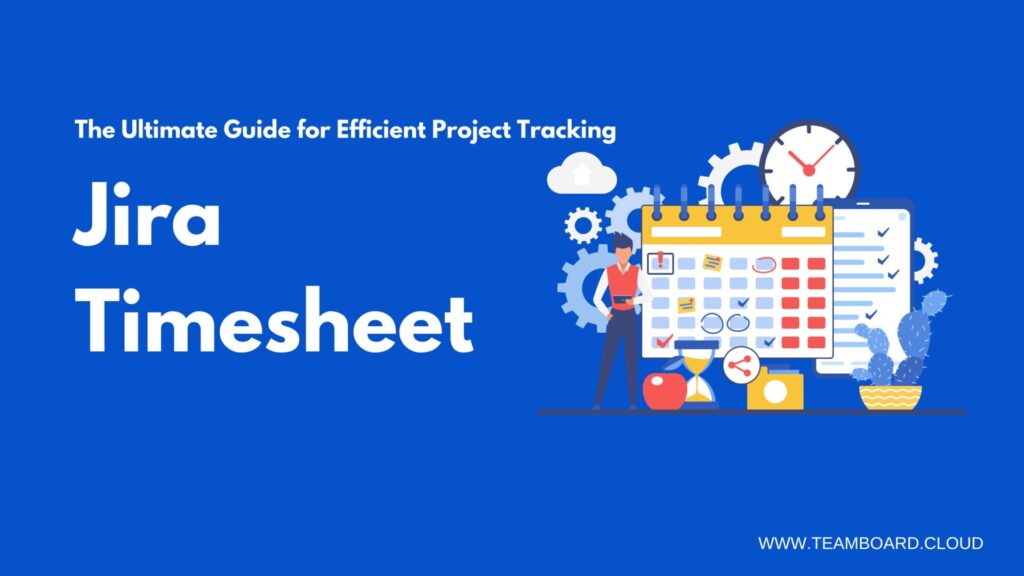 Understanding the Basics of Jira Timesheet
Fresh from our introduction, where we envisioned the expansive potential of Jira Timesheet, it's time to dive a bit deeper. Before we unlock its myriad benefits, let's ensure we truly understand its foundation.
What is Jira Timesheet?
At its core, Jira Timesheet is a time-tracking extension within the broader Jira ecosystem. Primarily, it's designed to offer a granular perspective on project timelines. Furthermore, it allows teams to log hours, track progress, and ultimately understand where their time is being invested.
Instead of guessing or approximating how long tasks take, Jira Timesheet provides a clear record. This not only boosts accountability but also aids in refining future project estimates.
What timesheet features does Jira have? 
Jira, primarily designed as an issue and project tracking software, offers basic time-tracking capabilities out-of-the-box:
Log Work:

Users can record the time they've spent on a particular task or issue.

Original Estimate:

At the beginning of a task, users can estimate how long they believe the task will take.

Time Remaining:

Jira automatically calculates the remaining time on a task by subtracting the logged work from the original estimate.

Due Dates:

Users can set due dates for issues to ensure tasks are completed on time.

Work Log:

A detailed record of all work logs, including who logged the time and when.

Basic Reporting:

Jira provides some basic reports related to time tracking such as time spent, work logged by a user, etc.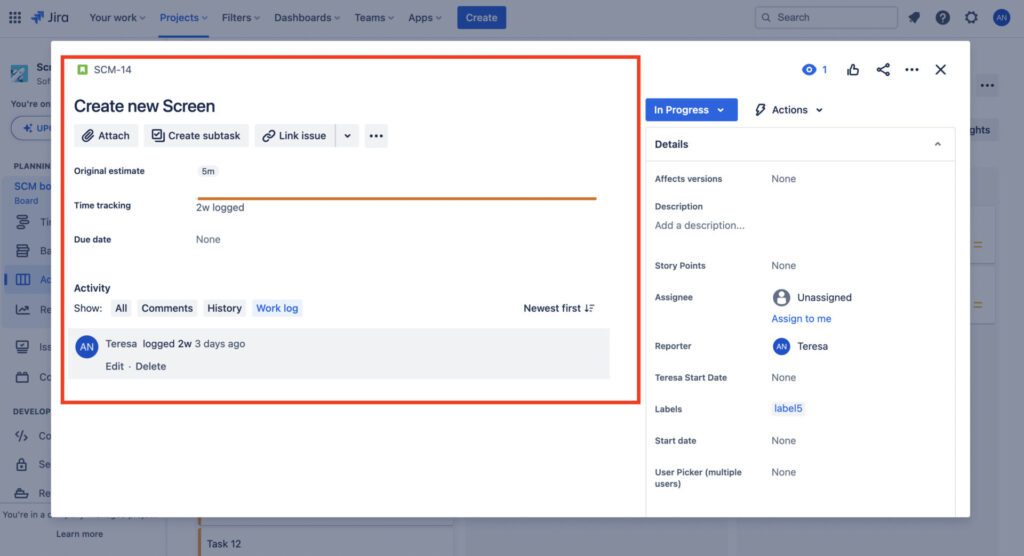 What timesheet features are not included in Jira?
While Jira offers basic time tracking capabilities, it lacks some of the more comprehensive features that dedicated timesheet plugins offer:
Automated Time Tracking:

Jira doesn't automatically track time spent on tasks. Users must manually log their work.

Advanced Reporting:

Jira's built-in reports are quite basic. For more detailed insights and customizable reports, you'd need an add-on.

Timesheet Approvals

: Out-of-the-box, Jira doesn't provide a system for managers or team leads to approve logged hours.

Billing and Invoicing:

Jira doesn't have built-in tools for converting logged hours into bills or invoices for clients.

Detailed Breakdowns:

Things like categorizing logged hours (e.g., design, testing, development) aren't natively supported.

Integration with Calendars:

There's no native capability to view timesheets in a calendar format or sync with external calendars.
What features should a perfect Jira timesheet plugin have? 
A perfect Jira timesheet plugin should ideally bridge the gaps mentioned above and include:
Automated Time Tracking:

The ability to automatically track time as users work on tasks.

Detailed and Customizable Reporting:

Advanced reporting tools for detailed insights, with customizable parameters.

Approval Workflows:

A system for managers or team leads to review and approve logged hours.

Integration with Billing:

Tools that allow users to convert logged hours into bills or invoices directly.

Task Categorization:

Allow hours to be logged against specific categories or types of work.

Calendar Integration

: Sync with popular calendars like Google Calendar or Outlook for better visualization.

Alerts and Notifications:

Reminders for users to log their hours or notifications for pending approvals.

User-friendly Interface:

An intuitive design that makes it easy for all team members to use without extensive training.

Security Features:

Ensure logged hours and related data are secured and only accessible to authorized personnel.

Scalability

: As teams grow, the plugin should be able to handle more users and more data without performance issues.
TeamBoard Plugins with TimeSheet for Jira
TeamBoard TimePlanner emerges as the essential plugin for Jira users, particularly those seeking enhanced timesheet capabilities. With its blend of rich features and a modern visual board, this plugin truly revolutionizes how teams manage their resources.
1. What is TeamBoard TimePlanner?
TeamBoard TimePlanner is an advanced plugin designed for Jira, initially aiming to optimize and enhance the resource and time management functionalities within the platform. Furthermore, conceived with modern project management challenges in mind, TeamBoard TimePlanner provides a comprehensive solution for managers and teams to manage resources efficiently.
Key features of TeamBoard TimePlanner include:
Time Tracking & Timesheets:

Specifically, it enables users to precisely track their working hours and submit timesheets for review and approval.

Visual Board:

Designed with a modern visual board, it provides a clear and intuitive interface to visualize tasks, schedules, and time logs.

Employee Management:

Offers functionalities like Employee Profile management, billing rate & cost management, and monitoring working capacity.

Advanced Scheduling:

Beyond individual task scheduling, it also offers team scheduling capabilities, ensuring that the entire team's tasks are aligned and balanced.

Vacation & Holiday Management:

Integrated tools for logging vacations, leaves, and public holidays ensure that team availability is always up-to-date.

Approval Workflow

: A structured process for timesheet submissions and approvals, ensuring accountability and accuracy in time logging.

Comprehensive Reporting:

Detailed reports on time logs, costs, and other vital metrics assist in making informed decisions.
2. A Comprehensive Look at Timesheet Features
2.1 Timelog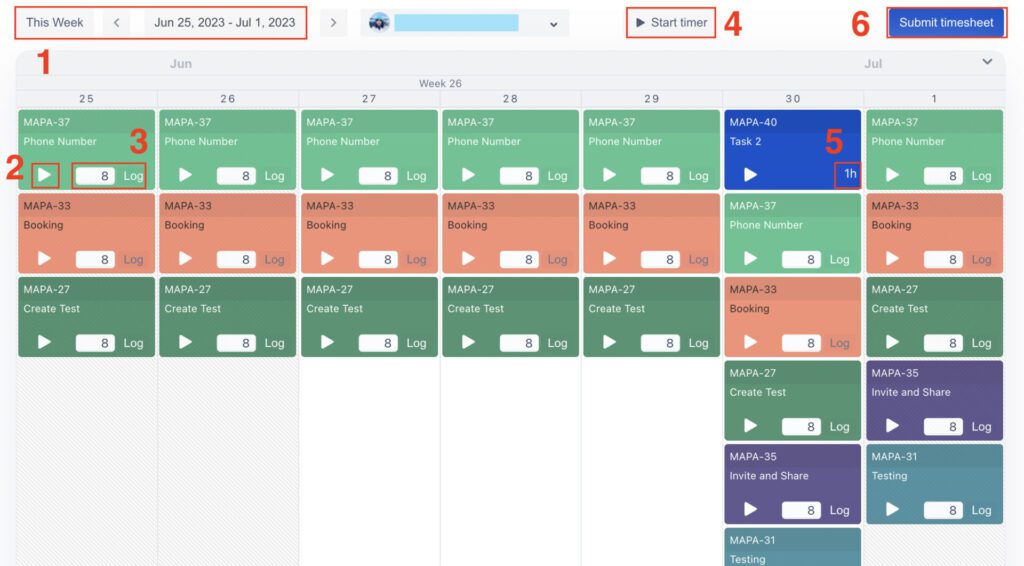 TeamBoard TimePlanner's Timelog stands as the heart of the time management process. It's where the detailed recording of work happens, providing transparency and clarity on every minute spent on tasks.
Adjustable Time View Range 
Users have the flexibility to tailor the viewing timeframe based on their preference or the nature of the project. Whether it's a daily, weekly, or monthly view, the Time View Range provides a dynamic window into the tasks or events.
Real-time Tracking with a Start Timer 
The Start Timer Quick Button is a game-changer for those who like real-time tracking. Consequently, as a user embarks on a task, a simple click on this button ensures that every second of work is accurately captured.
Manual Time Logging
For users who prefer or need to log their time after the task, the process is straightforward. Meanwhile, if there are pre-scheduled tasks within the chosen timeframe, they can just enter the time spent on each and click 'log' to register their hours
Overview with Time Log 
Serving as the central repository, the Time Log offers a comprehensive record of all the hours logged by the user. Additionally, it's an invaluable tool for self-audit, ensuring that every minute of work has been accounted for.
Unscheduled Tasks and Events 
Even if a task hasn't been pre-scheduled, TeamBoard TimePlanner has it covered. Clicking on a blank space within the Timelog brings up a dialog box, which allows users to swiftly log hours for any task or event. Consequently, this ensures that impromptu tasks don't go unnoticed.
2.2 Tracking and Submitting Timesheets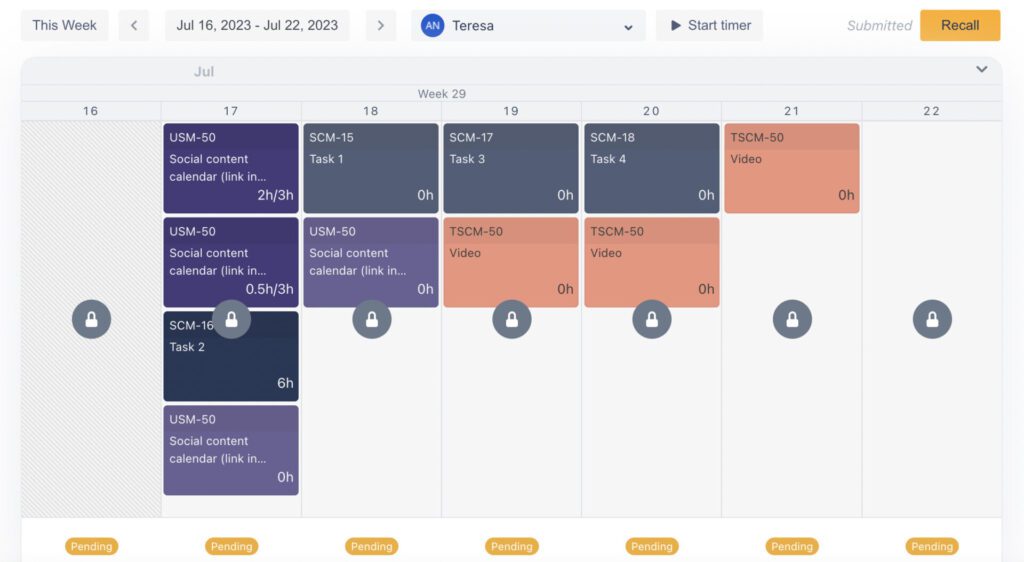 Timesheet Submission: 
Once users have logged all their hours, the next step is straightforward. They can easily submit their timesheets for review by navigating to Timesheet → Submit Timesheet. This ensures that their hours are in queue for approval, keeping everything transparent and organized.
Status Insights: 
After submission, users can monitor the status of their timesheets by heading to Timesheets → My Timesheets. Here, they can view the status of each timesheet, whether it's awaiting approval, accepted, or rejected.
Review and Resubmission: 
If a timesheet is rejected or requires modification, TeamBoard TimePlanner makes the editing and resubmission process hassle-free. Subsequently, the user can simply make necessary changes and resubmit for approval.
2.3 Timesheet Approval

Comprehensive Overview: 
Each timesheet provides detailed insights, including the total hours logged, a breakdown of tasks, and any notes or comments the submitter may have included. Therefore, this ensures that approvers have all the necessary information at their fingertips to make informed decisions.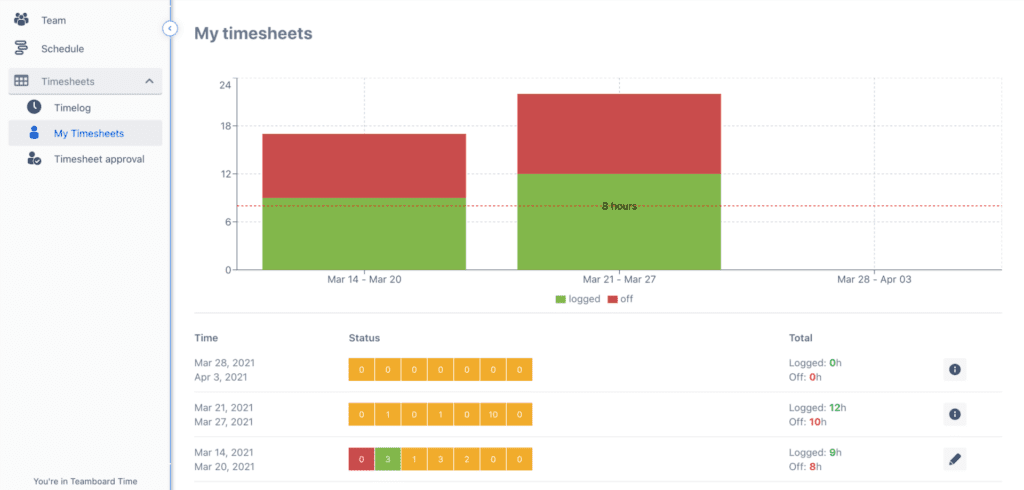 Filtering Capabilities: 
Given the volume of timesheets that may require approval, TeamBoard TimePlanner provides filtering options. Thus, approvers can sift through submissions based on timeframes or by specific reporters, streamlining the review process.
Status Indications: 
Every timesheet comes with a status:
Waiting for Approval:

Indicates that the timesheet has been submitted and is in queue for review.

Rejected:

Shows that the timesheet was reviewed and found to require revisions.

Accepted:

This means the timesheet was reviewed and approved.
Feedback Loop:
In cases of rejection or unsubmission, TeamBoard TimePlanner fosters a feedback loop. Consequently, approvers can add comments or notes, providing guidance or clarifications on why the timesheet was sent back, ensuring clear communication.
Team's Timesheet Overview: 
Team leads or managers can get a collective view of their team's timesheets. First, by navigating to Timesheets, and then selecting the specific team and member, they can view the timesheets of a particular member within a chosen timeframe. This aids in overall team time management and resource allocation.

2.4  Integrated Features for Streamlined Work
TeamBoard TimePlanner offers a suite of integrated features. Firstly, these features combine to deliver a seamless and efficient workflow within Jira.
Start Timer on Issue Detail Panel: 
This functionality is embedded directly into Jira's issue detail view. Additionally, by accessing the TeamBoard TimePlanner app menu from an issue, users can initiate the timer to track their work on that specific task in real-time.

Quick Log from Anywhere: 
For tasks that aren't pre-scheduled or are impromptu, users don't need to navigate to a different page. Instead, by clicking on any available blank space within the TimePlanner, a dialog box appears. This convenience lets users swiftly log their work hours for any task or event.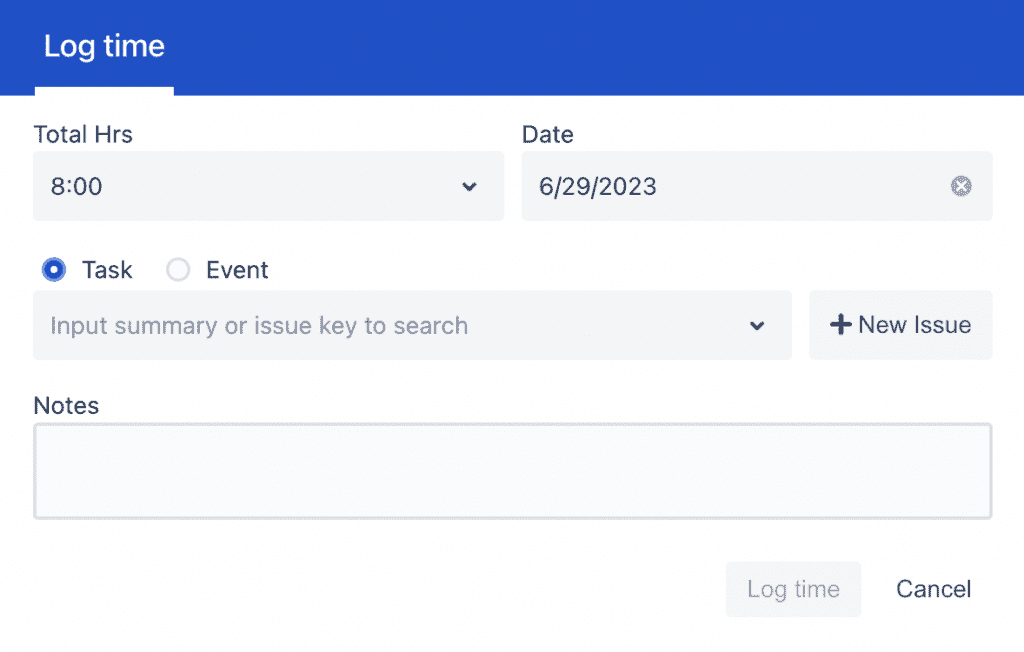 Harnessing the power of "Jira Timesheet" with tools like TeamBoard TimePlanner is more than a luxury, overall it's a necessity in today's fast-paced project management world. Enhancing Jira's capabilities ensures streamlined processes, and strategically incorporating this into your digital content can provide significant visibility.
Eager to transform your project management? Well, discover TeamBoard TimePlanner's Jira Timesheet features now! Furthermore, click here to get started or contact our team for more insights. Elevate your efficiency today!