Today's agile workplace environment requires customized project management solutions. More than half of all U.S. employees prefer hybrid work models, and that is not likely to change anytime soon. The demand for proper resource planning on the part of employers is only going to grow as the workforce adjusts to modern communication and remote work advantages.
As this new trend becomes commonplace, team leads are going to need bespoke software that allows them to communicate, manage, and outline successful roadmaps to all their staff, contractors, investors, and participants.
That is why we thought it would be a good idea to go over two of the most important resource planning applications available right now – ProScheduler and Tempo Planner.
Resource Planning in Jira
Effective resource planning is a cornerstone of successful project management. Jira, a leading issue and project tracking software, offers a robust set of features for resource planning. In this guide, we'll explore how "Resource Planning in Jira" can help teams maximize productivity and efficiency, ensuring that projects are delivered on time and within budget.
Capacity Planning: The Foundation of Resource Management
One of the key features "Resource Planning in Jira" offers is its ability to visualize each team member's workload and capacity. By effectively allocating tasks based on individual availability, the risk of overcommitting resources significantly reduces. Jira considers factors such as vacation time, public holidays, and personal working hours, ensuring a balanced workload and promoting a healthy work environment.
The Power of Task Prioritization in Jira
"Resource Planning in Jira" is elevated by its powerful task prioritization feature. Clear task priorities ensure that critical tasks aren't overlooked, and team members can focus their efforts on tasks that require immediate attention, keeping projects on track.
Time Tracking: A Vital Component of Resource Planning in Jira
Jira's time tracking feature is an invaluable tool for resource planning. It provides a clear picture of how much time is spent on each task, pinpointing discrepancies between estimated and actual work hours. This data is instrumental in fine-tuning future resource planning and making project estimates more accurate.
Jira's Advanced Reporting: A Resource Planning Ally
Jira's advanced reporting features offer a comprehensive overview of your resources and their performance. These reports can help identify bottlenecks, measure productivity, and track project progress, making them an invaluable tool for informed decision-making and future "Resource Planning in Jira."
Expanding Jira's Capabilities with Integrations
Jira's capability to integrate with other tools takes "Resource Planning in Jira" to the next level. By integrating with tools like Advanced Roadmaps (formerly Portfolio for Jira), teams can access advanced features like team management, capacity planning, and scenario planning, making resource planning more efficient and effective.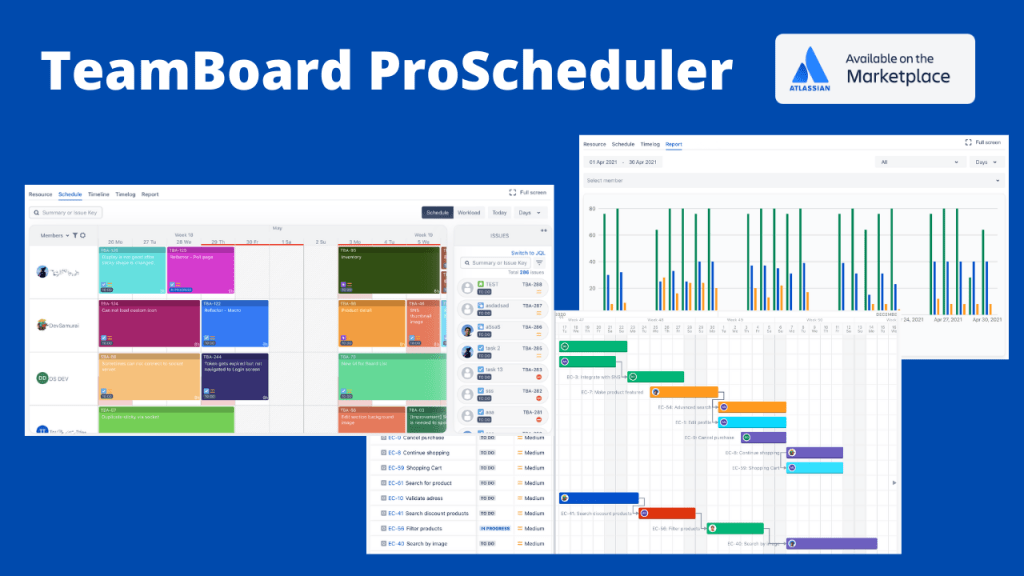 ProScheduler is a comprehensive modern application for resource planning and project management. It uses visual graphics and a unique user interface that is easy to comprehend and simple to implement among your team. This way, you can balance the different workloads of assignments, check on project completion rates, and more, all while using the integrated Gantt chart system and timeline tracking.
This is an excellent tool for increasing the communication between your active team members because ProScheduler lays everything out in a neat drag-and-drop way. You don't have to hunt around to figure out the current project progress. With a click or swipe, you get a broad overview of exactly what is going on and where every team member is currently positioned for their workload.
ProScheduler is an agile tool with features that were built in response to current market trends. This includes interactive time reporting, which is a big plus with human resources and employee pay departments. It makes it easy to generate a report on the actual billable hours of your team without needing the restriction of a physical centralized time clock inside your home base. You can have contractors from Paris to Colorado clocking in at any hour of the day, and everything is easy to collate and report.
Pros of ProScheduler
Integrates smoothly with Jira as a project management and resource planning tool/plugin
Easy to understand task planning and time tracking for all team members
An excellent reporting system for management and leadership needs
Scheduling and time tracking no matter the current hybrid or remote work model of your business
Interactive online Gantt charting capabilities
Easy to manage multiple projects in a single view that simplifies workload balancing
Generate time tracking report as needed
What is Tempo Planner
Tempo Planner is designed to consolidate and simplify the planning process. It uses a broad, macro view of all your individual projects so you can gain insights into different workforce operations. This way, you can adjust timelines, holidays, active team members, and introduce new automation between Jira and your native ecosystems.
One of the unique attributes of Tempo planner is the ticket system it uses for requesting new initiatives. This is a pretty solid way of ensuring all your timelines are realistic given your team's different needs, demands, and market requirements. The last thing any team lead wants to mess with during these uncertain times is a lack of resources for project completion.
The resource planning is based on different views that you can customize by the percentage of completion or other common attributes and allows you to review several commitments at once. The reporting feature is designed to work by leadership or individual team members. That means people can self-report regardless of location and time of day. Tempo Timesheets is the big advantage with this application as that allows a good comparison of planned vs. actual timed projects and active completion.
Pros of Tempo Planner
The application runs pretty leanly, which speeds up communication between team members
Has a built-in process tracker that allows you to capture actionable insights
High level extended visibility of all current projects and timesheets
Easy to manage resource allocation between teams and projects given the macro viewpoint
Why We Like Team Board ProScheduler
While both ProScheduler and Tempo Planner can help your business get a better handle on their integrated time, resources, and planning, we give a decent lead to ProScheduler. Their application offers a much smoother integration into Jira and your business activities between the Gantt chart visual features and an easy-to-understand interface. In addition, having a shorter lead time to adopting this application by your team managers is a huge feather in the cap of the project management software.
Resource Scheduler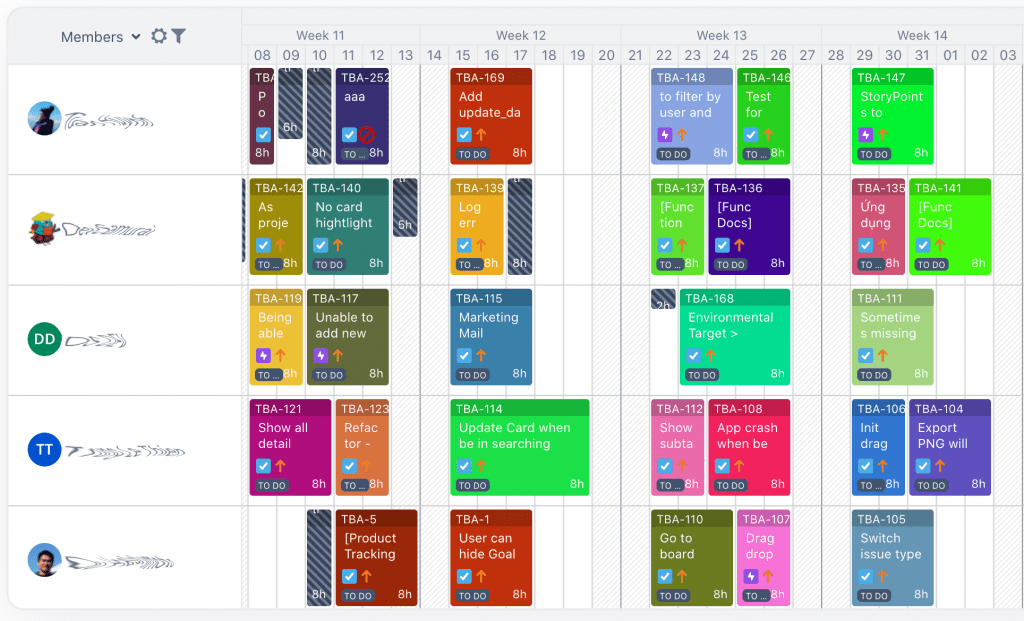 ProScheduler offers a beautiful resource scheduler that lays out the different commitments for current projects. This isn't restricted to a macro viewpoint. You can really get into the nitty-gritty details of every project and then quickly back out again to compare that project to another. The visual quality and drag and drop capability make this a simplified application for any business.
Portfolio Management
When you do have multiple projects or timelines, you can create different portfolios or tabs that allow you to flip between projects quickly. This is a huge advantage when having to implement a little bit more organization into your project management daily operations, especially considering how large Jira is in its default format.
Gantt Charts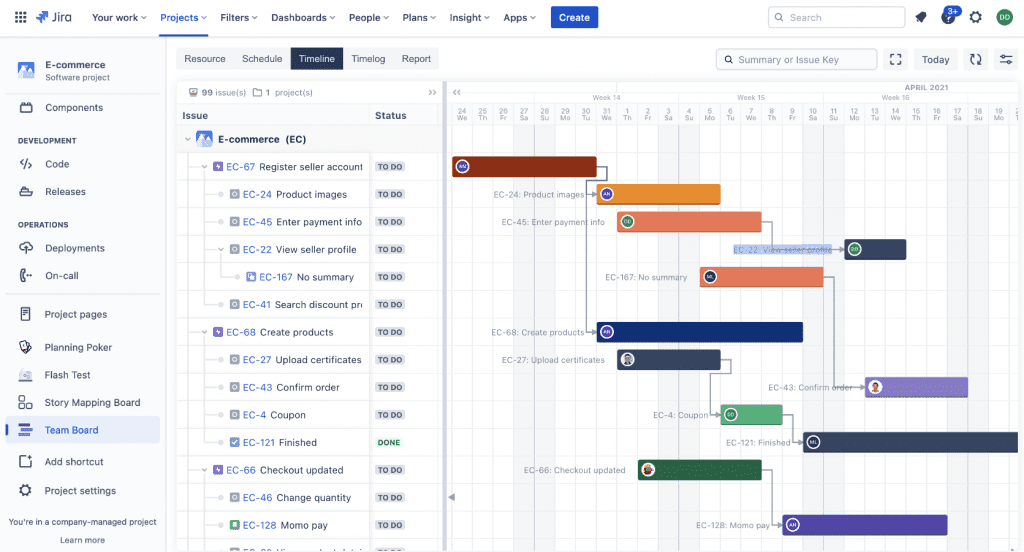 Hands down, the biggest advantage of ProScheduler has to be the Gantt chart integration. This graphical display of the most popular and valuable system in project management lays out different timelines and roadmaps according to your personal preferences and available resources. You don't have to keep scrambling for updates from outside sources. Everything is right there in front of you, ready to be updated whenever new information comes in from any perspective of the team or project.
Interactive Reporting
Any project manager operating in today's hybrid or remote work environment understands the massive need for accurate time reporting. ProScheduler offers an adaptive process that works with Agile, SAFE, and hybrid environments. Even better, new features are being introduced in the near future to integrate with Jira gadget and Jira reporting.
Conclusion
While Tempo Planner is a solid application and can get you into a much better place in terms of resource planning, it doesn't offer all the features and easy-to-understand graphical interface of Team Board's ProScheduler. The integrated Gantt chart and interactive time reporting features make this an industry must-have for any level of project manager.
ProScheduler is available now and has an expert team behind the application that is constantly rolling out new updates and development versions that improve the overall flow of this resource planner. You can download ProScheduler directly from Team Board's main website, or visit them over at Atlassian's marketplace.
For a solid overview of ProScheduler's visual scheduling, check out the demo on YouTube. You'll get a much better understanding of how the reporting, resource planning, and portfolio management works with nothing more than a click of the mouse. Truly an excellent solution for the modern hybrid and remote work models being implemented in businesses and organizations all over the globe. Try ProScheduler out today and experience the ease of managing all your upcoming projects in a simple centralized location.